There's nothing quite like Cruising Alaska on a Budget! You'll enjoy many unique experiences and outdoor adventures. And the great news is, it's possible to still have a great time even when you're on a strict budget. While a cruise is not the most economical way to see Alaska, it does provide the most diverse itinerary and a way to see as many key landmarks in a short time as possible.
The key is to plan ahead and choose your excursions carefully. Booking experiences earlier will allow you to take advantage of specials. Plus, when you have a great deal of time to plan, you can easily compare prices and information without the pressure to book right away.
Avoid costly mistakes when booking your Alaskan cruise by following this guide and money-saving hacks.
Cruising Alaska on a Budget
Without a doubt, Alaska boasts some incredible adventures you won't find anywhere else. Not only will you get a chance to see the northern lights and take in the wonder of massive glaciers, but you'll also witness incredible wildlife and enjoy outdoor endeavors.
1. Itinerary Tip
As you evaluate the most budget-friendly Alaskan cruise option, consider a one-way cruise that starts in one city and ends in another. While this isn't quite as convenient for booking flights and other travel plans, it is better for your pocketbook.
The city your cruise starts from can also impact the cost of the cruise. Shopping around for cruises that start from various ports can help you save money. In the process, consider what cities will offer the best initial experience for exploration before boarding the ship.
For the most economical option, look for "drop and go" specials on your cruise. But be aware that you'll need to be ready to drop everything and leave for your cruise at the last minute. This will need to have significant savings to make it worth the cost of the last-minute plane ticket to get to the port.
It's not uncommon for cruises to have empty staterooms and need to fill them last minute. That's the reason for these last-minute discounted bookings.
One of the most expensive cruise options is the land and cruise tours. You'll pay far more for your accommodations while on land than you would if you were booking this part of your trip separately. So it's often better to book a shorter cruise and then plan the land portion of your trip independently to save some money.
2. Best Times of Year for Affordable Cruises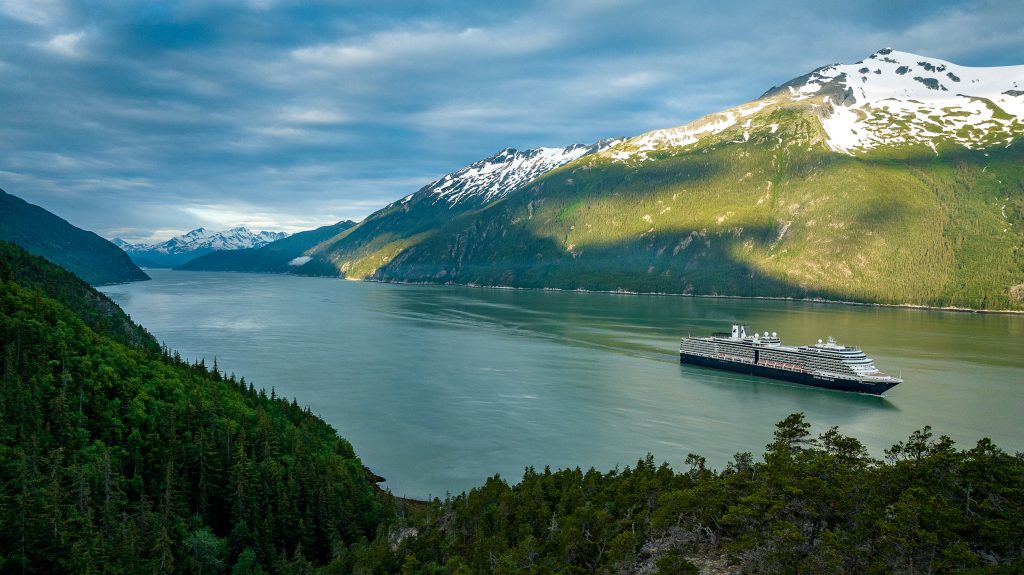 Prime Alaskan cruise season is July and August. May and September tend to have slightly colder weather and slightly lower cruise prices.
One additional perk of traveling in May is that it tends to be a dryer month for the state, which means you'll have an easier time navigating your adventures. Another perk of traveling in early May is that not all the cruises have resumed yet. That means you won't have to contend with as much tourist traffic from other ships when you arrive at the various ports.
3. Skip Renting a Car
When you stop at an Alaskan port, one way to save money is to skip rental cars. Many Alaskan towns are small and easy to conquer on foot. Review tourist maps and plan your travels before you arrive to make the most of the experience while still going on foot.
Consider using public transportation in the port cities that have it, such as the city bus in Juneau.
Gas prices in Alaska are high, so even if you get an incredible deal on your rental car, you'll likely be looking at an expensive endeavor when renting a car during your cruise.
LOOKING FOR A NICE HOTEL IN JUNEAU?
Full kitchens in every suite.
4. Look for Budget Tours
The tours you can book through your cruise line will cost far more than those that you book independently. You can save 10-30 percent on your bookings by working with port vendors or booking the experience yourself.
When booking at the port, don't pay the vendor's first price. Know that you have negotiating power to work toward a lower price. Some tour companies are unwilling or unable to negotiate their prices. If those are the tours that mean the most to you though, consider agreeing to the larger price tag if it fits within your total cruise budget. You don't want to look back and wish you'd gone on your bucket list tour.
Things to Do While in Juneau
Many Alaskan cruises offer just one day in Juneau. The hard part is, that there is so much to do in the capital city it can feel overwhelming to decide what's best for you. Here's a look at some of the prime tourist activities cruise participants enjoy.
1. Mendenhall Glacier
You'll likely need to hail a cab or rideshare to get there but it's worth the expense. Alternatively, you can ride public transit to the area for just $2. There are many hiking trails and plenty to see during your visit. Just be aware that the paths and trails can be confusing if you aren't an advanced hiker. Consider a guided tour.
2. Alaska State Museum
A ticket to the museum is only $5 and offers insights into the city and its Russian influence. See artifacts from the Gold Rush days and learn more about the various heritages that have made Juneau what it is today.
3. Juneau-Douglas Museum
Learn more about the history of the area and its people at the Juneau-Douglas Museum. It costs $6 per person to get in but will provide many hours of exploration and enjoyment.
4. Take the Mount Roberts Tramway
See Juneau from up high during a Mount Roberts Tramway tour. Ascend over the Gastineau Channel to enjoy incredible views. At the top, you can also enjoy the unique gift shop and have items mailed home as mementos. The tramway costs $45 for a day pass.
Alternatively, you can save money by hiking to the top. However, you should only embark on this endeavor if you're an experienced hiker and know more about the terrain.
5. Visit Nugget Falls
Just about a mile hike from the Mendenhall Visitor Center, you'll arrive at Nugget Falls to take in a stunning landscape. The hike is fairly flat and easy to navigate. And if you want to take your time getting there, you'll get the chance to take in some neat Alaskan views. You might spy some bears fishing near the falls for salmon.
6. Spend Some Time at Eagle Beach
If you're looking for an inexpensive way to see some wildlife, consider spending your day at Eagle Beach. As the name implies, it's well-known as a great place to see eagles in their natural habitat. But you might see other wildlife as well.
7. Relax and Enjoy Good Food and Drinks
There are so many excellent places to enjoy good food and drinks while in Juneau. If you arrive at the port in the morning and want a high-quality breakfast, read up on the best places to get breakfast in Juneau.
Where to Stay in Juneau
If you have a cruise that starts or ends in Juneau, you'll need a high-quality hotel to relax in. Frontier Suites offers a quiet setting because it isn't in downtown Juneau. It's a Juneau airport hotel that has a full kitchen in every suite. Book your stay now for the best prices during your Alaskan cruise.
Further reading: