Juneau is home to many outstanding restaurants. If you're looking for a great way to start your adventures, enjoy a hot Juneau breakfast at one of the best restaurants in the area with a morning menu.
From decadent pastries and coffee to unique egg and sausage concoctions, you'll enjoy the fine cuisine the area offers while exploring an outdoor playground like no other. Here's a look at the best restaurants in Juneau that offer breakfast.
Best Restaurants in Juneau for Breakfast
Take some time to start your day right by visiting a restaurant in Juneau for breakfast. There are many outstanding options with early morning hours to help you get your day started with the right nutrition to have energy for the day. Whether you're looking for a small bite alongside your habitual morning cup of joe, or you want to sit down for a more formal dining experience, Juneau has the options you're looking for. Here's a look at the best breakfast places in Juneau.
Donna's Restaurant
This diner is located less than a half mile from Frontier Suites. You could walk to get a delicious meal. Enjoy breakfast served all day, even into the evening hours six days a week. Feast on classics like steak and eggs or biscuits and gravy. Or go with a lighter fare of two eggs, hashbrowns and toast.
You'll have ample options for your classic breakfast fare during your visit. Enjoy hearty combinations that will help you get ready for the fun and adventure the day holds. Finish it off with some of Donna's Ice Cream for a delicious sweet treat.
Hours: 6:30 a.m. to 8:30 p.m. Tuesday through Sunday and 6:30 a.m. to 2:30 p.m. Mondays

Location: 9121 Glacier Highway, Juneau, AK 99801

Website: donnasrestaurant.com

Price: $10-$30/breakfast entrée
The Rookery Café
This café is laid back and has an eclectic menu with classic dishes alongside Asian-inspired fare. While you'll find burgers and chicken dishes, you'll also find some delicious breakfast favorites, like avocado toast and a two-egg breakfast.
Enjoy something sweet with the cereal killer toast that includes two slices of French toast, caramelized cornflakes, sweetened condensed milk and maple butter syrup. Or if you enjoy a more classic breakfast option, go with French toast.
Hours: 7 a.m. – 2 p.m. Monday through Friday and 9 a.m. – 2 p.m. Saturday. Closed Sundays.

Location: 111 Seward Street, Juneau, Alaska 99801

Website: therookerycafe.com

Price: $10-15/breakfast entrée
Sandpiper Café
The Sandpiper Café is a popular daytime hangout or location where people go to get a bite between their Juneau activities. It features contemporary spaces with familiar dishes everyone loves. And if you love breakfast and want it well into lunchtime hours, Sandpiper Café serves breakfast all day.
Tourists who enjoy the early morning hours will find the Sandpiper Café enjoyable because the restaurant opens at 7 a.m. The menu features several pancake, French toast and Belgian waffle options Or try one of the six omelets. And if you want something unique, consider a crab cake benedict or tofu scramble.
Hours: 7 a.m. – 2 p.m. Thursday through Sunday. Closed Monday through Wednesday.

Location: 429 W Willoughby Ave, Juneau, AK 99801

Website: sandpiper.cafe

Price: $10-$25/breakfast entrée
Sacred Grounds
If you're looking for a great coffee shop that also offers breakfast, Sacred Grounds has three convenient locations in Juneau. The coffee is all Alaskan roasted and you can get a variety of hot drinks, including cappuccinos, lattes and teas. The real fruit smoothies include fresh fruit with no additives or preservatives to give you a healthy start to your day or a natural energy boost during your Juneau travels.
Try a plant-based Lotus power drink if you aren't a coffee person. There truly is something for everyone on the Sacred Grounds menu. Plus, you'll find classic breakfast favorites, like a burrito, oatmeal or two-egg breakfast alongside hashbrowns, breakfast meat and toast.
The Central Council of Tlingit and Haida Indian Tribes of Alaska own and operate the restaurant to promote sustainable business and economic opportunities for the tribe.
Hours: 7 a.m. – 5:30 p.m. Monday through Friday, 7 a.m. – 3 p.m. Saturday and Sunday

Locations:

One Sealaska Plaza, Juneau, AK 99801 (limited hours Monday through Friday 7 a.m. – 2:30 p.m.)

3260 Hospital Drive, Juneau, AK 99801

320 West Willoughby Avenue, Juneau, AK 99801

Website: sacredgroundsak.com

Price: $7-$12/breakfast entrée
Valley Restaurant
You'll find traditional American fare at Valley Restaurant with early morning hours to prepare for your Juneau experiences. The restaurant is open seven days a week with long hours so you can enjoy breakfast, lunch or dinner.
For breakfast, you'll find an extensive menu with omelets, pancakes, corned beef hash, chicken fried steak, egg and breakfast meat, Filipino-style breakfast and more. With 23 entrees and 11 omelet options, you'll certainly find something that interests you.
Hours: 6:30 a.m. to 9 p.m. 7 days a week

Location: 9320 Glacier Highway, Juneau, AK 99801

Website: None, but you can see the restaurant's menu at: zmenu.com/valley-restaurant-juneau-online-menu/

Price: $8-$12/breakfast entrée
Heritage Coffee Roasting Company
Another great coffee company in Juneau is Heritage Coffee Roasting Company. The company roasts its coffee and has its corporate offices on Willoughby Avenue in Juneau. But you'll find six great locations throughout the area to match your needs.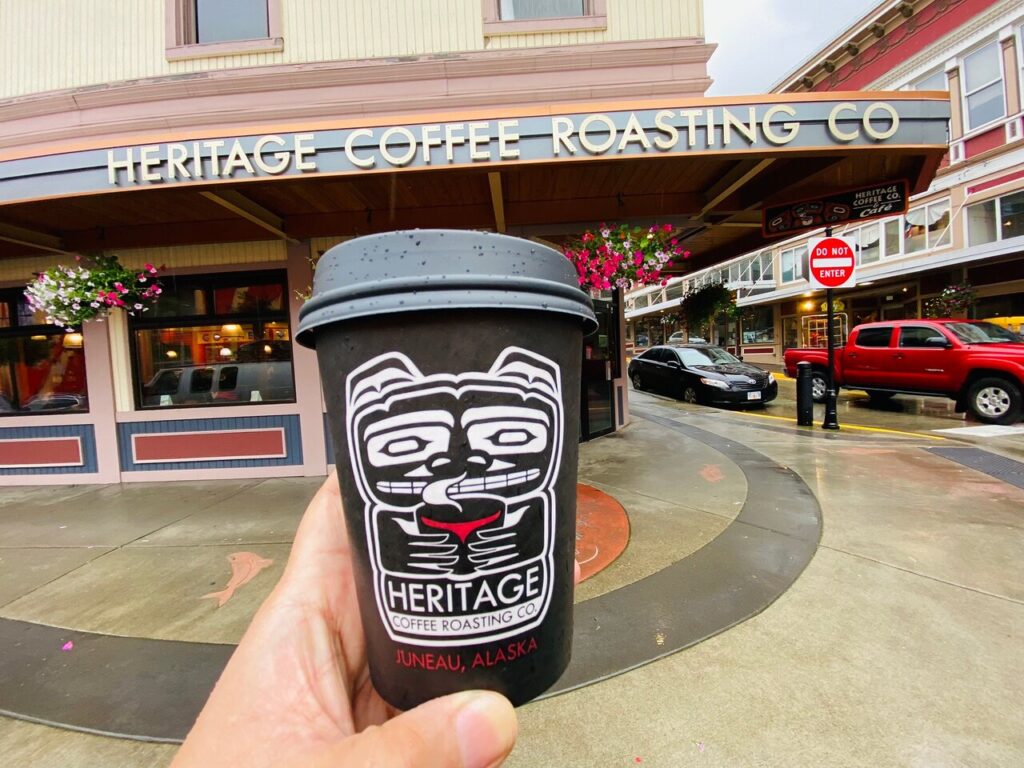 Enjoy two classic burrito options or some new favorites, like basic or deluxe avocado toast. The breakfast melt has a fried egg, fresh spinach, breakfast meat, tomato and Havarti cheese on ciabatta bread with chipotle aioli to awaken your taste buds.
You'll find several vegan and vegetarian options as well as gluten-free fare. It's a great place to enjoy breakfast if you're dining with someone who needs a special menu.
Hours: Monday through Friday 5:30 a.m. – 6 p.m. (kitchen hours 7 a.m. to 3 p.m.), Saturday and Sunday 6 a.m. – 6 p.m. (kitchen hours 8 a.m. to 3 p.m.)

Location: 6 locations available: heritagecoffee.com/about/locations/

Website: heritagecoffee.com

Price: $7-$12
Alaskan Crepe Escape
For the best crepes and pastries in Juneau, head to Alaskan Crepe Escape. You'll find both sweet and savory crepe options along with smoothies and espresso beverages. The restaurant has been serving up its decedent crepes since 2008. The one catch is you can only enjoy breakfast here from May through October.
You'll find light fare, sweet treats and healthy options throughout the summer. So if you're in town while this crepe restaurant is open, be sure to stop in.
Hours: May through October with adjusting hours each year

Location: 139 S. Franklin Street, Juneau, AK 99801

Website: alaskancrepeescape.com

Price: $5-$10
Where to Stay for the Best Juneau Breakfast Options
There are many fine hotels located throughout Juneau. Frontier Suites is an airport hotel that still offers a prime location for experiencing Juneau. Plus, it's one of the hotels with a restaurant in Juneau, which means you'll find delicious food options on-site so you don't have to travel after a busy day of exploring.
Book your stay now at one of the area's cleanest, most welcoming hotels with outstanding amenities, including a full kitchen in every suite!
Further Reading: