There are so many neat things to do in Juneau, Alaska. Many of these fun things to do involve exploring the great outdoors. But there are also plenty of museums to learn from, historic landmarks to see and delicious restaurants to visit.
During your stay in Juneau, we highly recommend going for a kayak tour. You'll get as close to nature as you possibly can while taking in the beauty of the snow-capped mountains and glaciers off in the distance.
See some of Juneau's outstanding wildlife, including whales, bears and bald eagles. You'll get a chance to breathe the fresh air, unplug from technology and get a little exercise while seeing our stunning city from a new vantage point.
Here's a look at some of the kayaking tours we recommend and what you can expect to see during these experiences.
Kayak with Humpback Whales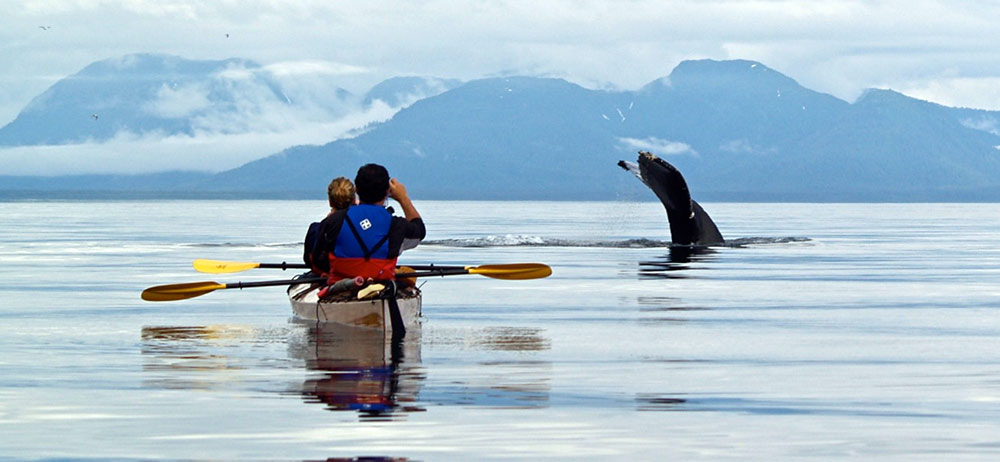 Whale watching is a prime activity for travels to Alaska. But nothing will get you as up close and personal with these giants as heading out to their feeding grounds in a kayak.
Start your journey in a 6-person motorboat. The cruise will take you out to the Channel Islands State Marine Park. From this remote island, you'll get information on kayaking and get ready to paddle these fun waters filled with wildlife. Your tour guide will explain some things to watch for and the best viewing opportunities during your kayaking journey.
As you paddle, you'll enjoy the stunning views of snow-capped mountain peaks and glaciers. This unique vantage point puts you at one with nature as you paddle along in search of some of the sea's most stunning creatures. But you'll also have the opportunity to spot some neat land animals along the shores too.
Here's a look at some of the common animals you might encounter during your kayaking adventure.
Humpback whales

Orcas

Sea lions

Porpoises

A variety of bird species

Seals
The tour is six hours long and includes Alaskan snacks during the motorboat ride. You might experience some light rain during your excursion, so plan with rain jackets and rubber boots to stay dry and comfortable.
Glacier View Sea Kayaking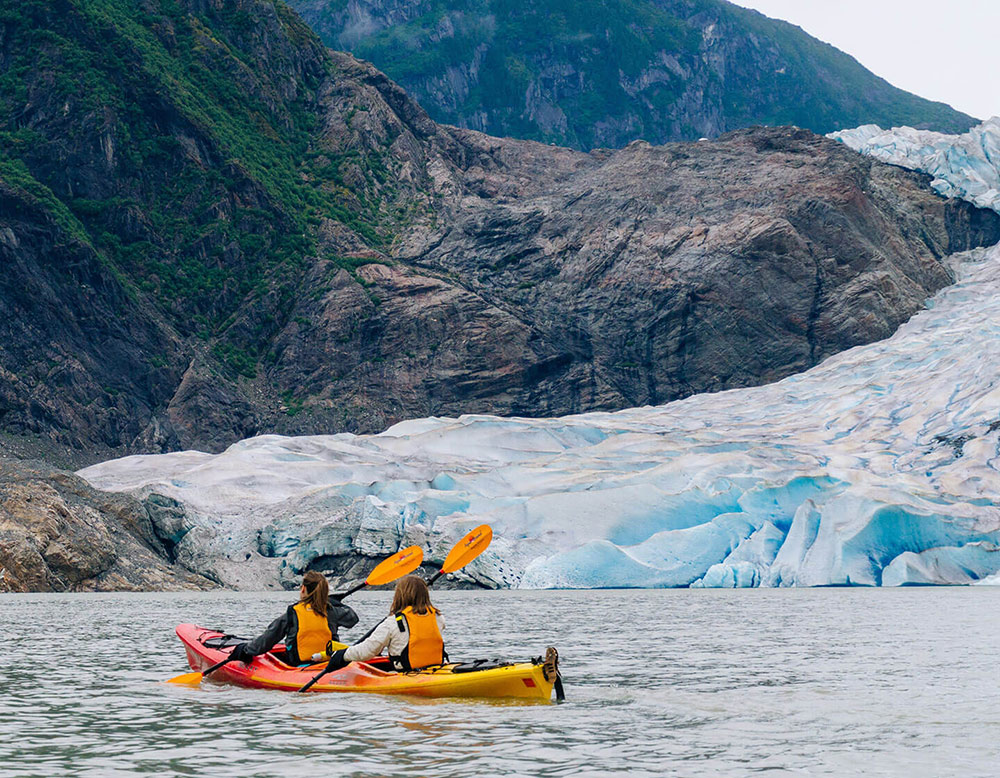 The waters surrounding Mendenhall Glacier make for a great kayaking adventure. Get close to wildlife as you take a leisurely three-and-a-half-hour tour of the glacier.
But don't worry, you don't need any prior kayaking experience to go on this fun excursion. You'll get the training you need to prepare you for your tour. These kayaks are very stable and easy to use.
With 37 years of experience and local knowledge, the tour guide takes you from your Juneau hotel to North Douglas Island. You'll breathe in the sea air as you find the right life jacket and get quick lessons on how to paddle your kayak.
Listen as your guide explains what you'll be seeing and key things to look out for on your journey. Groups are small with only about four or five kayaks. Kayaks are great for this adventure because they don't make the noise the motorized boats do, which won't scare away the wildlife.
You'll see a unique view of Mendenhall Glacier. But you'll also get close to Mendenhall Wetlands. See parts of Alaska's history like Smuggler's Cove where people traded illegal alcohol during the Prohibition.
At the end of your journey, you'll get to enjoy a fun snack with unique ties to Alaska. This includes reindeer sausage and salmon spread with crackers. Because you'll be on the Alaskan waters and near the glacier, plan to wear layered clothing to ensure optimal comfort during the tour.
Pack Creek Bear Viewing Tour with Kayaking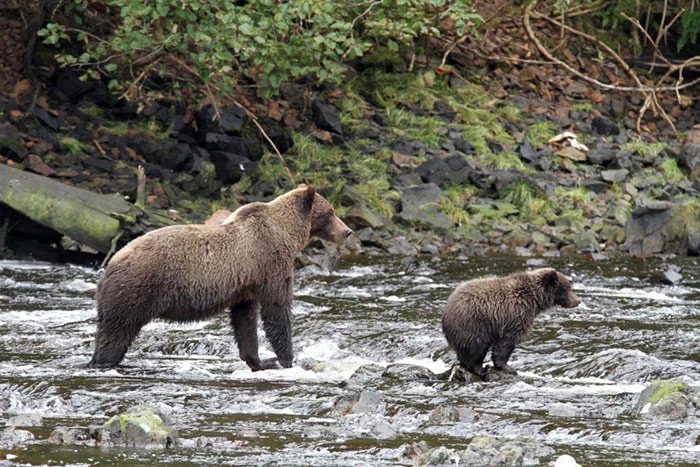 Pack Creek Bear Viewing Area is a protected site for wildlife. This area is known for having the largest concentration of brown bears anywhere in the world. Tours to this area give you a full Juneau experience.
You'll start your trip with a floatplane flight. This will take you into Tongass National Forest. Once you're there, you'll transfer from the floatplane to kayaks. The kayaks will allow you to get up close to the wildlife preserve through Windfall Harbor to Admiralty Island.
This is nothing like seeing brown bears at the zoo. Here, bears frolic freely in the meadows and catch salmon in the river.
Book this tour well in advance since groups are small and the wildlife preserve limits the total number of visitors to the area each day.
Experience the Harbor and Auke Bay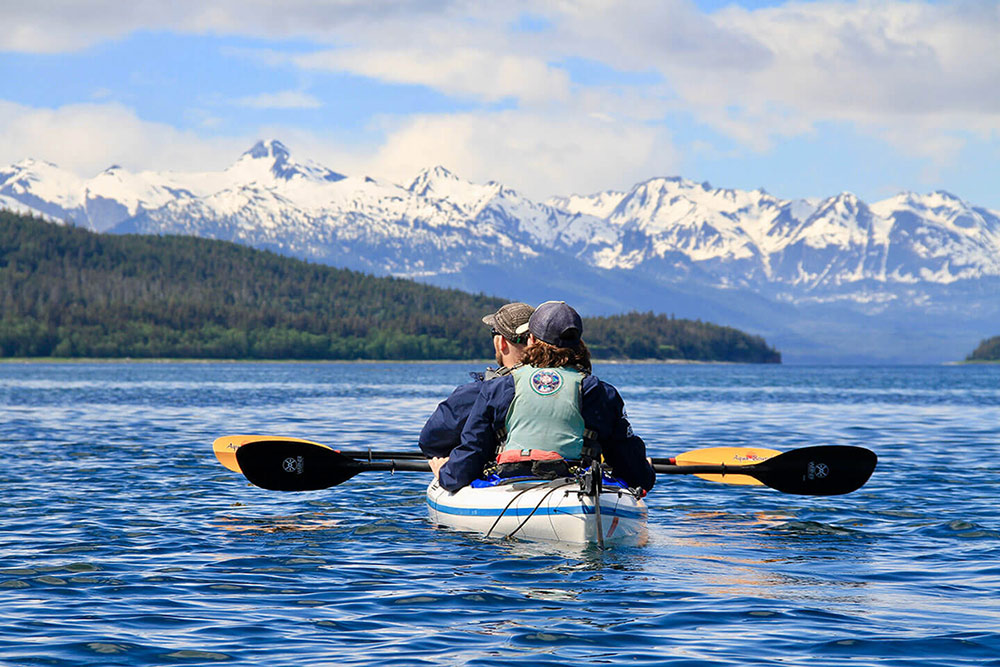 Take a guided kayak tour through the harbor out to Auke Bay. You'll still likely see some wildlife on this tour, but you'll also get the unique experience of getting up close to some of the boats in the harbor. You'll see all kinds of boats, including:
Commercial fishing vessels

Sailboats

House boats

Private yachts
Then, based on the tides and weather, you'll head down the coast. Your tour will take you to uninhabited islands to see some of nature's wonders. It's not uncommon to be greeted with jumping salmon and harbor seals anxious to meet some new visitors.
The water in the area is shallow, which might allow you to see starfish and flowering plants that grow in the water. Watch overhead as you might spot a bald eagle soaring.
When you return to the docks after your nature tour, you'll enjoy a snack. Weather permitting, you can also take part in a little campfire after your tour.
This tour picks up from Frontier Suites so that you don't need to rent a car or hire a taxi or rideshare company.
Why Kayaking is a Great Thing to do in Juneau, Alaska
There's something serene about spending a day on the water, either in a boat or in a kayak. But with a kayak, you don't have the noise of a motor, which allows you to really take in all that nature has to offer.
There are some great reasons to see Juneau by kayak. Here's a look at some of those reasons.
You don't need any kayaking experience to take a tour. You'll get the basic training you need along with the necessary equipment. It's the perfect way to experience kayaking for the first time or after a long hiatus from the activity.

It's an opportunity to unplug. Sometimes in today's always-connected world, it's tough to ignore technology. But out on a kayak, nature is your focus.

There's no way to get closer to aquatic wildlife than a kayak. Sure, at a zoo in a small tank you might be able to touch some aquatic animals, but that won't be like seeing the animals in their natural habitat. A kayak puts you close to the waters to take it all in. It also puts you at a safe distance from land animals but still close enough to see them in all their wonder.
Planning Your Trip to Juneau
Kayaking is just one way to see nature and the stunning landscapes Juneau offers. Start planning your adventures by booking your hotel stay with Frontier Suites. Our hotel offers suites with a kitchen to make your travels more comfortable.
Book your stay with us now and start planning your outdoor adventures.
Further reading: