No matter where you go to see the northern lights, you'll need clear skies for effective viewing. You can glimpse this incredible phenomenon in Juneau during the winter months on clear nights. You'll need to plan your travel for late August through late April if you want a good viewing chance.
As the nights get longer, you'll increase your chances with March being the peak season for viewing the northern lights. But also know that forecasting the northern lights is challenging because it requires a deep understanding of solar activity, which there simply isn't technology yet to predict.
However, once you reach Juneau, you can begin watching the National Oceanic and Atmospheric Administration (NOAA) Space Weather Prediction Center. There you'll find short-term predictions for the northern lights. You just won't have enough data to know when to book your trip to ensure you get a good view.
What Are the Northern Lights?
The northern lights cast dancing waves across the pitch-black sky at night under the right conditions. It's both stunning and spectacular.
While you're seeing beautiful light displays, what is happening is that energized particles from the sun are hitting Earth's atmosphere at incredible speeds. The planet's magnetic field protects it from speeding particles, redirecting them toward the poles. Hence why there are both northern and southern lights.
The result of these fast-moving particles is the northern lights. In 1619, the phenomenon got its name "Aurora Borealis." Galileo Galilei named the lights after the Roman goddess of dawn and the Greek god of the northern wind.
But just because the phenomenon had no formal name until 1619 doesn't mean that's when it started. French cave paintings from 30,000 years ago indicate that people were seeing the northern lights long before Galileo named them. 
LOOKING FOR A NICE HOTEL IN JUNEAU?
Full kitchens in every suite.
The science behind the northern lights was not discovered until the 20th century when Norwegian scientist Kristian Birkland theorized that it had to do with the sun particles and the Earth's magnetic field. However, his theory was not confirmed until 1917.
Solar emissions of these particles go through 11-year cycles with lulls and extremes. The most recent extreme activity period was in 2014, meaning that the next will be in 2025. However, you can still view the northern lights during slower solar emission periods.
The Best Places in Juneau to See the Northern Lights
To increase your chances of seeing the northern lights during your Juneau trip, be sure you head to the right location. Former travelers recommend these locations.
Skaters Cabin: you'll need to travel 13 miles north of downtown Juneau, but many people report that this is a great location for viewing the northern lights. This is a campground that the USDA Forest Service oversees. It is located on the southwest shore of Mendenhall Lake. The cabin itself is a neat place to visit because it was built in 1936 from natural stone.
Mendenhall Glacier: you won't find any lights near Mendenhall Glacier, making it a great place to view the northern lights. Mark Kelley is a photographer who shares his experience capturing the northern lights from Mendenhall Glacier.
Brotherhood Bridge: the bridge is part of Glacier Highway and makes it simple to pass over Mendenhall River. On one side of the bridge is the more urban area of Juneau while the other is more rural. Many visitors report this area as being a good spot to see Aurora Borealis.
North Douglas Boat Ramp: take in a unique northern lights viewing experience over the waters when you choose the North Douglas Boat Ramp as your viewing location. You could even launch some kayaks to watch for the northern lights while on the water. Just be aware that it will be extremely dark, which is what makes for great northern lights viewing but also makes for dangerous kayaking conditions for those with less experience.
Auke Bay: another great location to see the northern lights over the water is Auke Bay. From here, you can see a unique view of Mendenhall Glacier. And if you make a day of it, you might see humpback whales come close to shore during their "bubble-net feeding."
Eagle Beach: if you want to spend a day in a fun place where you can explore the outdoors but also know that there are restaurants to grab a bite to eat when you get hungry, Eagle Beach is a great place to go. You can even camp in the area so that you'll have all your stuff close by and increase the likelihood of seeing the northern lights. The area has plenty to do from whale watching to beach combing.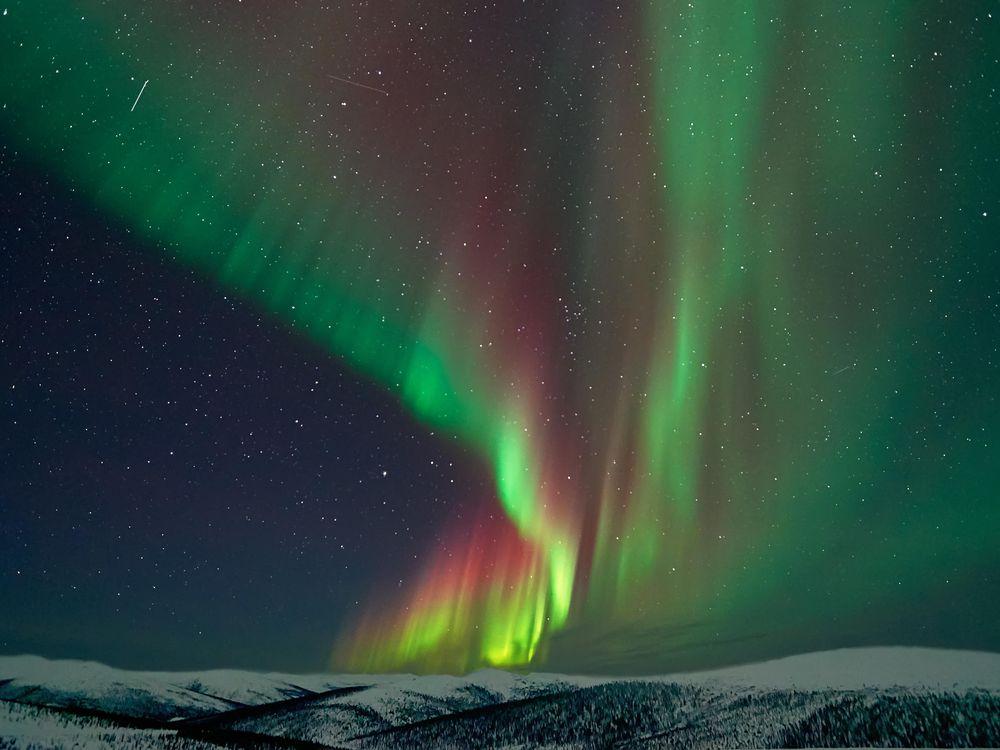 Increasing Your Chances of Seeing Aurora Borealis During Your Travels
While you can view the northern lights in Juneau on rare occasions, you'll increase your chances by heading inland to one of these Alaskan cities.
Fairbanks: this is probably the best-known place to see the northern lights as it is just below the Arctic Circle. Fairbanks is also very accessible thanks to there being an airport in the city. If you plan to visit Fairbanks to increase your chances of viewing the Aurora Borealis, Clary Summit is a good place to park with a clear view of the horizon.
Coldfoot: you'll find the northernmost national park in the U.S. in Coldfoot, Gates of the Arctic National Park and Preserve. The national park is a good place to view the northern lights or you might visit Iniakuk Lake Wilderness Lodge.
Utqiaġvik: in this small town near the northern edge of Alaska, you'll find a hotel that dedicates itself to helping travelers see the northern lights alongside teaching about native culture. The Top of the World Hotel organizes tours that celebrate native culture to give you a look at their life.
Wrangell-St. Elias National Park & Preserve: head to the largest protected reserve in the country where you'll find 13.2 million acres of wide open spaces. You can enjoy many outdoor adventures while in the area, including rafting and fishing. Then find a cozy spot to watch it get dark and hopefully see the northern lights.
Once you make it to Alaska, exploring additional cities and areas can help you get a full idea of what life is like in the northernmost state in the country. And because traveling between cities is so common, you'll find fast, affordable flights from one city to another to make the most of the time you have in Alaska.
That way, you can visit Juneau for its outdoor wonderland and Gold Rush fun and then head farther north for the best chance to see the northern lights during your stay.
Whether you're just passing through Juneau as part of your Alaskan adventure or you plan to stay many days to take in all Juneau has to offer, Frontier Suites is an affordable, accessible hotel ideal for your home base during your stay. You'll find spacious suites complete with a full kitchen. Located less than a mile from Juneau International Airport, you can easily come and go on the way to other Alaskan cities. Check availability and book your stay now.
Further reading: