When traveling, having a kitchen or kitchenette can make your stay feel a bit more like home. Whether you're hoping to have plenty of room to store your leftovers or want to scramble up some eggs and fry some bacon before heading out onto the trails to enjoy hiking or other outdoor adventures, you'll have the necessary tools.
If you're looking for the best Juneau hotels with a kitchen or kitchenette, look no further. Here's a look at the top options to help you find comfortable, enjoyable accommodations.
Best Juneau Hotels with a Kitchen or Kitchenette
Enjoy a more homelike setting with everything you need to cook or heat a meal. Stay in one of these hotels that come fully equipped with everything you need to relax and enjoy home cooking.
1. Frontier Suites
Located less than a mile from the Juneau Airport, Frontier Suites offers a great location that puts you close to Mendenhall Glacier and its incredible hiking trails. Prices are competitive and your stay comes with free parking and Wi-Fi.
The hotel is pet friendly, though you'll need to ensure your pet meets the requirements so call ahead before booking.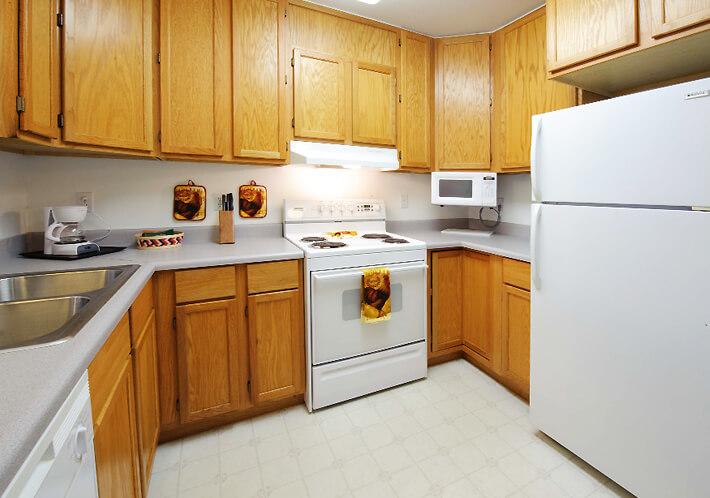 Your stay comes with complimentary airport transportation. You can also walk from the airport to the hotel if you want to enjoy the fresh Alaskan air.
With an on-site restaurant, the hotel offers an easy way to rest and relax after a busy day of exploring. Get takeout and enjoy all the dinnerware in your room or eat in the restaurant for the ambiance.
This is a three-star hotel that offers quiet comfort for travelers. Regardless of why you're visiting Juneau, you can enjoy your stay with a full kitchen, a spacious suite, and an enjoyable atmosphere.
2. Juneau Hotel
The same team that owns and operates Frontier Suites also operates Juneau Hotel. The biggest difference between the hotels is their location. Juneau Hotel puts you in the heart of downtown to offer a different travel experience. Rooms are well-equipped including the following:
Flatscreen TVs
Washer and dryer in every suite
Full kitchens
Free Wi-Fi
Family rooms
Suites
Free airport/ferry shuttle
24-hour fitness center
LOOKING FOR A NICE HOTEL IN JUNEAU?
Full kitchens in every suite.
You'll be within walking distance of many outstanding restaurants, interesting landmarks and fun things to do. You'll need to take a taxi or other transportation to get to some of Juneau's best hiking and outdoor exploration locations, but overall it's a prime location to stay while visiting Juneau. 
3. Juneau Aspen Suites Hotel
Aspen Suites Hotel is close to the Juneau Airport for ease of travel. You'll also be close to Mendenhall Glacier and all its spectacular views and outdoor experiences. The suites offer options for one or two queen beds. All rooms come with fully equipped kitchens to make your stay more comfortable and convenient. Rooms feature blackout curtains to help you get a good night's rest to enjoy your Juneau adventures.
For those looking to host business meetings, the hotel also has a business center for guests.
Rooms are also equipped with air conditioning, though Juneau rarely is warm enough to warrant its use. You can also enjoy flat-screen televisions and free Wi-Fi so you can relax and enjoy entertainment at your leisure.
The hotel describes its atmosphere as clean and contemporary. It's one of the more modern hotels in the area, though you will miss out on some of the frontier charm you'll find in other local hotels.
4. Silverbow Inn Hotel and Suites
This is one of the more luxury hotels available in Juneau and the price reflects that. The hotel has 13 guest rooms and 3 suites. The boutique inn boasts the comforts of home while offering the convenience of a traditional hotel.
Whether you're planning a romantic getaway or a business trip, you'll enjoy your time at Silverbow. Your stay comes with a full breakfast each morning.
In the evenings, head up to the rooftop deck and hot tub to rest and relax after a busy day exploring. Or if you want to get energized for the day, take advantage of the 24-hour coffee, tea, and snacks.
Rooms have stunning mountain or city views that will keep the Alaska vibe going as you transition from adventuring to relaxing.
Meet with the front desk to discuss a vacation package or discuss what to do during your stay in Juneau.
5. The Driftwood Hotel
A stark comparison to Silverbow, The Driftwood Hotel is more of a budget hotel, though it does still have a kitchenette complete with an oven, stove top, fridge, dishes, pans, and microwave for cooking in many rooms. All rooms feature large screen TVs and you'll have good Wi-Fi connectivity throughout your stay.
The hotel is pet friendly, with some restrictions on the pets that are welcome. You'll be within 3 blocks of major landmarks and right next door to the Alaska State Museum. Enjoy the convenience of the on-site store to grab essentials as needed.
While the hotel has a strong location and good amenities, many guests have noted issues with cleanliness. Other guests have noted that the kitchenette is small and often located near the bed, which makes for awkward living.
It's a no-frills hotel located in downtown Juneau and offered at a budget price. So know what you're booking when you choose these overnight accommodations.
Benefits of Hotel Rooms with Kitchens or Kitchenettes
You might be wondering what you can expect from a kitchen hotel suite. Read up on our blog to learn more and prepare yourself for your stay. In the meantime, here's a look at some of the benefits of booking a hotel with a kitchen or kitchenette.
Save money on food expenses. Eating every meal at a restaurant can get pricey. You can save considerable expenses by enjoying in-room cooking and dining. Plus, you won't need to spend money on travel to and from the restaurant. Simply planning to enjoy breakfast in your room can reduce your travel budget by $20 per day per person.
Eat healthier. While many restaurants now offer healthy options, you'll be in full control of your menu when you cook your meals in your hotel room.
Feel more at home during extended stays. When you're traveling for longer than a few days, you can enjoy the comforts of home despite being away from home for an extended period. Cook foods you're familiar with and keep your budget under check no matter how long you'll be staying.
What's the Difference Between a Kitchen and a Kitchenette?
A kitchen will feel like what you're used to at home with counter space to prepare your meal alongside an oven and cooktop to prepare the food. But a kitchenette will have limited food preparation space and might feature smaller versions of the appliances you're used to. It also might lack storage space, which will limit the pans, cookware, and dishware that the hotel can provide you with.
Kitchenettes offer the essentials but you might struggle to fully prepare a meal in the space. It will still work for heating up frozen dinners or storing fresh fruits and vegetables. Just be aware of its limitations when booking.
Book Your Juneau Hotel Stay with a Full Kitchen
Enjoy a full kitchen in every suite when you stay at Frontier Suites near the Juneau Airport. Check rates and availability now to begin planning your travel.
Further reading: