Alaska is filled with incredible vistas. It is truly a photographer's dream because there are so many ideal places to take pictures for social media, photography sales, wall art, and more.
11 Best Juneau Sights for Social Media Worthy Pictures
As you plan your trip to Juneau, consider visiting these Instagram-worthy locations to capture the beauty of your adventures. But don't forget to also live in the moment and enjoy the unique experiences Juneau provides.
1. Ice Caves
Mendenhall Glacier is less than four miles from Frontier Suites. Take in the incredible ice fields. If you can, also go inside an ice cave, which forms when the glacier melts and then refreezes. The wonder is truly something to behold.
It's a photographer's dream because it provides stunning saturated teals and turquoise colors. The colors swirl together and create the illusion of being underwater. This is one of the most unique photos you can capture during your travels.
Plus, ice caves are unique because they are always changing. What you see during your travels will differ from what your friend will witness if they go back in a month or even a week.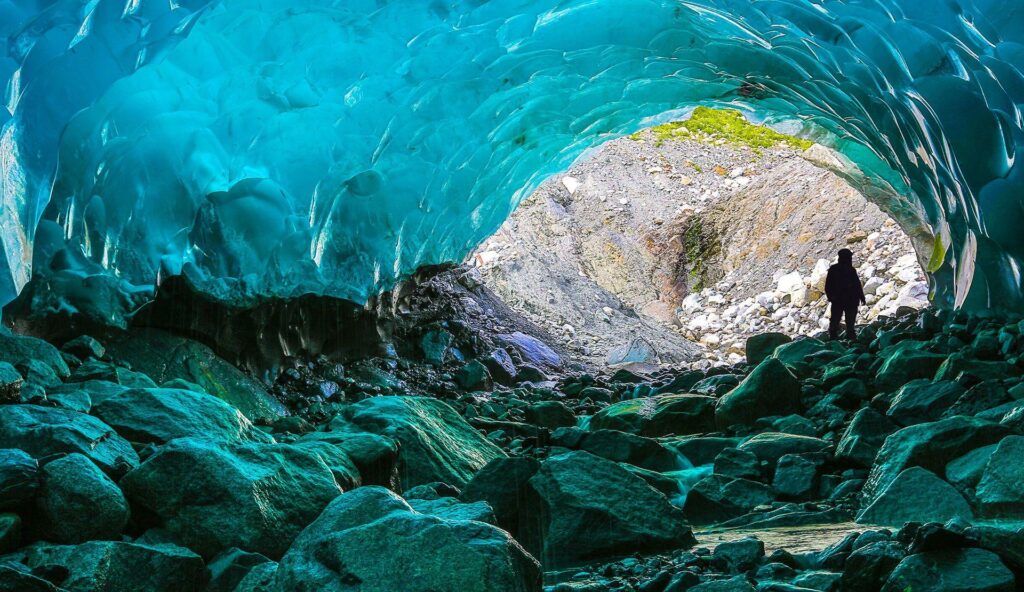 Just know that the ever-changing status of the caves also makes them extremely dangerous. You should only approach these caves when you're with a skilled guide. There are plenty of ice cave tour options in Juneau.
2. Mendenhall Bay National Park
While you're photographing the ice caves, enjoy the views from Glacier Bay National Park. Photograph the glacier as well. The rocky beaches also make for an ideal photo you won't find elsewhere.
The National Park is vast, offering nearly as much land mass as the entire state of Connecticut. Photography opportunities are endless in the National Park as you enjoy the open wilderness.
3. Nugget Falls
During your trip to Mendenhall Glacier, be sure to stop and photograph Nugget Falls. This incredible waterfall feeds into Mendenhall Lake. And while you're there, take a photo from a different angle of Mendenhall Glacier.
Be prepared with an easy-to-carry bag for your camera though as you'll need to go on a one-mile hike to reach the falls.
4. Whales
Whale-watching tours are popular throughout Alaska. There's nothing quite like watching a whale breech coming up for air. Getting a good photo can be challenging, so be picky when it comes to your whale-watching tour.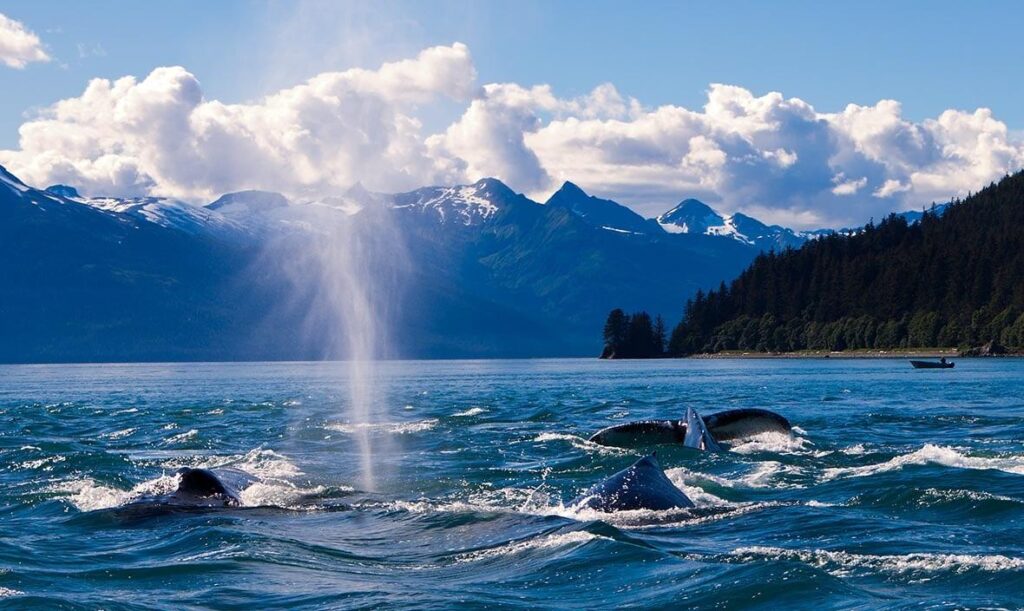 Consider going on the Whale Watching & Mendenhall Glacier Photo Safari with Gastineau Guiding. A local expert leads the tour and limits the group sizes to 14 to ensure you get the best experience. During the tour, you're guaranteed a whale-watching experience. And they've truly thought of everything with padded armrests along the sides of the boats to help photographers steady their cameras.
5. Wildflowers
While you might have wildflowers in your area, those in Juneau are something to behold, mostly because they grow in wide open spaces where you won't have to worry about buildings or cars in the background of your photo. And the backdrop of snow-crested mountains makes for a unique shot.
If you aren't sure where to go to see the best wildflowers, review this list of the best wildflower Trails in Juneau. And you'll get a great hike as you seek the perfect wildflower photo.
LOOKING FOR A NICE HOTEL IN JUNEAU?
Full kitchens in every suite.
6. Auke Bay
The bay itself is picturesque. The peaceful waters also attract a variety of wildlife, including bald eagles. Spend a day fishing at Auke Bay as you take in everything there is to see. That way, you ensure you are enjoying your Juneau experience while capturing the photographs that tell a story about your adventures.
After a long day of fishing and photography, visit the Devil's Hideaway to enjoy delicious fish tacos.
7. Tracy Arm Fjord
Seeing a fjord is a unique experience and Tracy Arm Fjord offers tranquil moments to view wildlife and natural wonder. If you're quiet, you might witness moose or bears in their natural habitat. And during the summer, whales frequent the area.
Plan to spend a day exploring the Fjord, which is part of Tongass National Forest, an incredible natural wonderland worth spending some time hiking through.
8. Bears
Pack your equipment and head to Admiralty Island to capture the wonder of bears in their natural environment. Pack Creek Bear Viewing Area offers one of the most incredible wildlife experiences.
Juneau is well-known for its brown and black bears thanks to a great environment for them to thrive. As you work to capture a bear photo, keep in mind that these creatures can reach up to 1,000 pounds. And you're entering their habitat.
Do not feed the bears to try and get them closer to you to capture the best shot. Feeding bears is illegal throughout Alaska. Don't approach the animals or try to trap them for the best photo. Do not try to outrun a bear because they'll see that as an incentive to chase you.
The best time to capture social media photos of bears is July 5-August 25. The Pack Creek Bear Viewing Area is open from June 1 through September 10.
9. Northern Lights
If you'll be in Juneau between late August and April, find a good location to view the Northern Lights. There truly is nothing like it. While Juneau is not known as the best viewing location for the Northern Lights, during clear, dark nights you can often catch a glimpse. March is the best month to see the lights, though you might deal with overcast skies as spring weather moves in.
10. Gastineau Channel
Take a ride on the Mount Roberts Tramway and capture the Gastineau Channel. The channel separates mainland Juneau from Douglas Island. Experts believe that the channel was named for English civil engineer and surveyor John Gastineau.
The navigable parts of the channel are short, at approximately 8-9 miles. And for boats to use the channel, it must be high tide. Changing sedimentation and isostatic rebound due to glacier retreat are both making it challenging for ships to navigate the channel.
11. Moose
Juneau is better known for its whales and bears than it is for moose. But you might get lucky and spot moose near Mendenhall Lake. And if you have a vehicle and the time, you can drive 40 miles north of Juneau to Point Bridget State Park, which is a great location for spotting moose, along with majestic meadows, astounding cliffs, spawning salmon, and all-around incredible views.
Where to Stay in Juneau
If you are visiting Juneau for its spectacular views and social-media-worthy photos, you might want to stay closer to nature and farther from downtown. Frontier Suites gets you close to Mendenhall Glacier, its wildlife, and incredible experiences while providing comfortable accommodations. Each suite includes a full kitchen, living space, and comfortable beds. You can choose from a variety of suite formats to meet your party's needs and ensure ultimate comfort.
Book your stay now and start planning your ideal Juneau social media photo ops.
Further reading: