Whether you're traveling in Juneau alone or coming with the whole family, there are plenty of gold panning tours in Juneau to match your unique needs.
The Gold Rush is what put Juneau and many other parts of Alaska on the map. And now you can experience those days by collecting your gold flecks during a tour. Learn some more about the Gold Rush and how you can get involved.
History of Juneau's Gold Rush Days
1880 was a crucial year in Juneau's history because prospectors Richard Harris and Joe Juneau struck gold at the mouth of Gold Creek. That discovery led to the town of Juneau being built.
For six decades, prospectors mined $150 million worth of gold. In today's currency, that would amount to $7 billion. With time, the gold available began to run out and government and tourism have taken over as the primary industries in the city.
Tourism is now popular thanks to the stunning landscapes Juneau offers, its rich Native heritage and its role in the Gold Rush. Tourists have been flocking to Juneau since the early 1900s.
Cruise volumes to Juneau have steadily increased over the years from 380,600 passengers in 1995 to 1,150,000 in 2022. 
About the Alaska-Juneau Gold Mining Company
On most tours, you'll pan for gold near Alaska-Juneau Gold Mining Company. The company was founded in 1897 and covered approximately 402 acres along the Juneau gold belt. The mine's tunnels stretched to the Gastineau Channel. The mills were water-powered.
Its corporate office was located in Charleston, West Virginia, which means the company was incorporated under West Virginia laws.
The mine was active for 47 years until labor shortages began in 1944 due to World War II. At that point, the company sold its hydroelectric power to Alaska Electric Light & Power, which later purchased the Alaska-Juneau Gold Mining Company holdings in 1972.
Gold Panning Tours in Juneau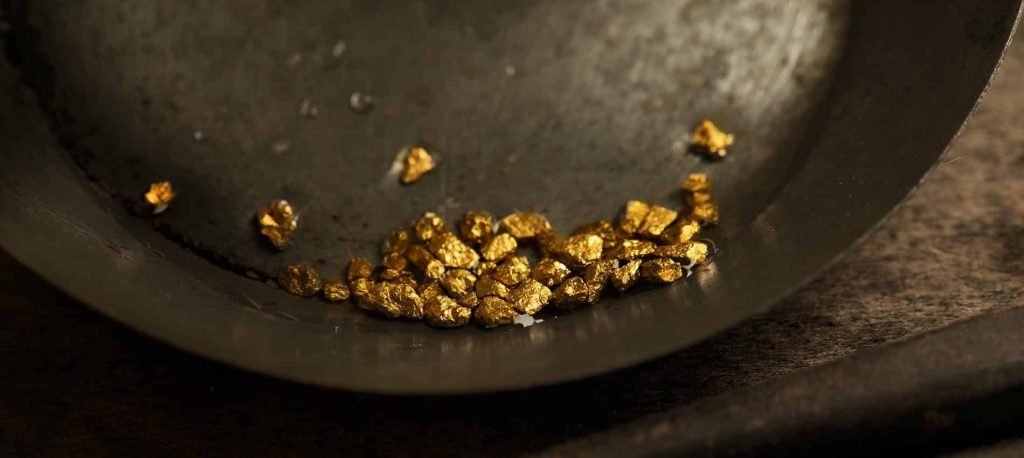 Finding gold panning opportunities in Juneau is not hard given its popularity. Before you go on a tour, consider visiting the Last Chance Mining Museum to learn more about the industry. The museum is open for limited hours Friday, Saturday, Sunday and Monday during tourist season.
You'll get the chance to see the world's largest air compressor along with many artifacts from the Gold Rush days. Admission is only $5 per person in cash. Be aware that the building is historic, so it has no heat. You'll want to dress warmly.
If you plan to take the bus to the museum, you should plan to get off at the 4th Street and Seward Street stop. This is a three-minute walk from the museum.
If you want to learn even more about the Gold Rush, you can head to the Juneau-Douglas City Museum where there is a hands-on gold mining gallery. You can learn more about rocks and minerals native to the area as well as test out some gold mining equipment. General admission is $6 per person and includes a variety of other exhibits to help you learn about the area.
Once you've learned more and you're ready to get started panning for gold yourself, here's a look at the tours available.
LOOKING FOR A NICE HOTEL IN JUNEAU?
Full kitchens in every suite.
Spend several hours enjoying Gold Creek while panning for gold. The tour is authentic with a costumed prospector guiding the way from the cruise ports to the Last Chance Basin.
As you make the trek, you'll walk the same areas that Joe Juneau and Richard Harris did in the late 1800s in their search for gold. As you near the Alaska-Juneau Gold Mine, you'll get the chance to pause and pan for gold in Gold Creek.
Select from panning directly in the creek or the waist-high demonstration trough to create a comfortable environment for your tour. This provides options for guests of all ages and mobility while offering an authentic experience.
You're guaranteed to find gold on your tour, and everything you find you get to keep! You'll also learn more about the Alaska-Juneau Gold Mine, the largest operation of its kind in the world. Learn about mining techniques and take home a souvenir Orelove Brothers Gold Claim Certificate.
Don't just pan for gold. Also enjoy one of Juneau's freshest and most delicious dishes: baked fish. Start the two-hour experience with a tour in the Alaskan rainforest and learn about the Gold Rush. You'll stroll through stunning nature scenes on your way to Salmon Creek Waterfall where the fish spawn and where the historic Wagner Mine is located.
Stop and pan for gold while you work up an appetite for the all-you-can-eat meal of salmon and chicken, Gold Rush potatoes, baked beans, rice pilaf, salad and cornbread. Various drinks are available and you can purchase beer and wine.
Finish the experience with blueberry cake and s'mores that you cook yourself around the crackling campfire as you enjoy folk music from local musicians. The tour goes rain or shine so plan accordingly for the weather.
You'll get started at the cruise ship terminal where a van will pick you up for your journey. The guide will offer narration along the way to teach you more about what you're looking at in downtown Juneau. You'll get to see important landmarks, including the capitol building as you make your way to Last Chance Basin on Gold Creek.
Once you arrive at Last Chance Basin, the guide will offer a Gold Rush history before training you about how to pan for gold. Take home all gold that you find and know that you'll certainly go home with at least a few flecks because the area is plentiful.
Once you've completed your panning experience, you can explore the remnants of the Alaska-Juneau Mining Company and get your Orelove Brothers Gold Claim certification. The 1.5-hour experience is not recommended for those with limited mobility due to the rocky and uneven terrain. And like most tours in Alaska, it will run rain or shine so come prepared with proper apparel.
The same tour company offers the experience but with a salmon bake at the end. You'll find a classic Alaskan-style buffet complete with Alderwood-grilled wild salmon, Cheechako chicken, baked beans, rice pilaf, salads and homemade blueberry cake. This tour is three hours including round-trip transportation.
Where to Stay While Exploring Juneau's Gold Rush
If you're coming to Juneau to experience the Alaska Gold Rush, you'll find comfortable accommodations at Frontier Suites. The hotel is located near the airport to make transportation when you first arrive simple. And with a free airport shuttle, you can easily get to and from the airport. Or just enjoy the fresh air during the .9-mile walk between the airport and the hotel. 
The suites include a full kitchen with bakeware to make your stay feel just like home. Book your stay now to secure the best rates and availability.
Further reading: