One of the most thrilling and fun things to do during your stay in Juneau as a family is taking part in dog sledding experiences. These experiences range from true winter sled dog excursions to summer sleds or opportunities to just meet and play with the dogs. It all depends on your sense of adventure and comfort level with getting close to this sport.
While some tours have age requirements, others are great for families to go on together. Whether you're stopping in Juneau during your Alaskan cruise or planning a vacation to the state's capital, you'll want to consider one of these experiences.
Family-Friendly Dog Sledding Experiences in Juneau
Experience what mushing is like by getting involved in the sport and taking a tour from a real musher. Here's a look at some of the best tours to go on if you have guests with a wide age range.
There are no age requirements to go on this tour. It's truly fun for guests of all ages.
The tour picks up passengers from the helipad located at the cruise ship terminal for ease of transportation.
Start your adventure with a helicopter ride up to an ice field nestled in the mountains. You'll first take in some of Juneau's most incredible views from the sky. Then the helicopter will deliver you to a dog sledding camp on Herbert Glacier.
You'll start by getting to know more about the dogs and their environment with a kennel tour. Learn about the 160 dogs that call the glacier home as well as the unique athletes who care for and train the dogs.
Ask the dog trainers questions and enjoy many photo opportunities. Then it's the moment you've been waiting for. Load up into the dog sled with up to 3-4 other people and prepare for your race across the snow. The tour ends with a photo opportunity to capture your experience.
The tour is 3 hours including all roundtrip travel. You'll spend an hour on the glacier learning about the dogs and enjoying the sledding experience.
The cold-weather experience of dog mushing isn't for everyone. Instead, you can enjoy Summer Cart Mushing with Gold Rush Dog Tours. The excursion is closer to downtown Juneau.
You'll get to see a late 19th-century replica outpost, snack on some cookies and enjoy mushing basics from sled dog trainers. Get a peek inside the importance of summer cart mushing for training the dogs. Then board the cart for an experience unlike any other. Watch as the mountain valley terrain whisks by on your fast-paced adventure.
You'll spend an hour at the camp with 20 minutes dedicated to your cart ride. This shorter tour is ideal for those traveling with young children with short attention spans. Reviewers share their experience taking part in the excursion with young travelers and say it is fun for both adults and kids.
LOOKING FOR A NICE HOTEL IN JUNEAU?
Full kitchens in every suite.
One extra family-friendly aspect of this tour is that there is special pricing for children ages 2-12. And children 2 and under who will sit on a parent's lap are free, which can make this an affordable experience for your family.
Take a 1-mile ride through Tongass National Rainforest as you experience the dogs' strength and abilities aboard a summer cart. Once you've seen how the dogs mush, you'll learn more about the process through an informative presentation from a dog handler and their retired sled dog.
You'll learn about the famous Iditarod race and how mushers take on this experience while providing a safe environment for their dogs.
Then comes the moment families really enjoy. Interact with the husky puppies who are full of energy and ready to meet new friends.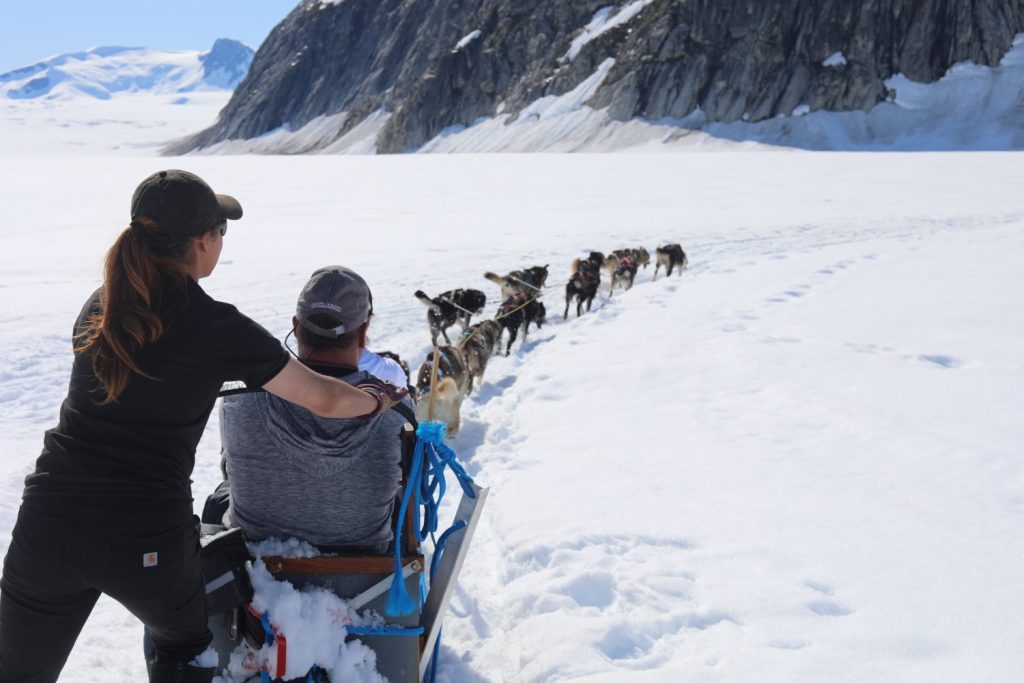 Enjoy roundtrip transportation from the cruise docks as part of your tour. It's just a short drive to the Douglas Island facility where you'll take in these incredible experiences. The experience is two and a half hours long and includes light refreshments.
Guests must be 2 years old or older to take part in this tour. So be aware if you have babies or young toddlers in your party that this might not be the tour for you.
Start the tour with a helicopter tour that will take you up over Douglas Island for incredible views. There are many scenic routes to reach the dog camp that include Tongass National Forest and a Juneau ice field. You might see unique wildlife from above or experience calving glaciers.
At the dog camp, a professional musher will greet you and eagerly share their dogsled experiences with you. You'll learn dogsled handling basics as well as crucial dog commands the mushers use.
Then board a dog sled for an exciting 2-mile mush through the glacier landscape. Enjoy with amazement the dogs' excitement and desire to run.
End your tour with some photo opportunities before heading to vans, which will escort you back.
Be aware that the temperatures on top of the glacier are chilly. Layer up and bring sunglasses if you have them because the reflections of the ice field can be brutal. Tours run from May through August.
Tours combine both the thrill of a helicopter tour with the excitement of dog sledding. Take in incredible views from your helicopter flight as you soar over mountain peaks and glaciers. The helicopter experience picks up from the cruise ship terminal.
Guests under the age of two are considered lap children and are free of charge. Children ages 2-11 must be accompanied by an adult.
Once you reach the dog sledding camp, you'll have some time to meet the animals and learn how mushers care for these animals. Then you'll board a real sled and get to feel the excitement of flying down an icefield behind powerful sled dogs.
Enjoy photo opportunities that will help you capture the priceless moments you enjoyed during your 2-hour and 45-minute tour.
All tours include roundtrip transportation as well as the rental of traction over boots for a safe experience in the snow. Dress warmly for the tour with hats, gloves, waterproof outer layers and sunglasses. Be prepared to walk a bit on uneven, snowy surfaces as you explore the camp and learn about the dogs.
The sooner you make your reservation, the better as it helps the tour company work around other travelers to give you your preferred tour time to work with your travel schedule. Also, be aware that you cannot board the helicopter with bags or additional items. You must carry all belongings on your person during the tour.
Preparing for Your Juneau Adventures
As you start planning your Juneau adventures, you'll want to consider where you stay during your travels. Frontier Suites offers comfortable accommodations for families with plenty of space to spread out and relax after a busy day of exploring.
The rooms come with a complete kitchen, including plates and cookware to make your stay feel just like home and help feed any picky eaters who might be traveling with you. Check rates and availability now to begin planning your Juneau experience.
Further reading: