Thankfully, most excursion companies provide the majority of what you need for a dog sledding adventure in Juneau. But you'll want to know how to dress and prepare for your adventure to get the most out of it.
Juneau offers two types of dog sledding adventures. The first is summer dog sledding in which the dogs pull a wheeled training cart ideal for the warmer weather. Or you can visit in the winter or come to one of the mountaintop dog training camps to experience a real dog sled.
Regardless of when you're planning to enjoy your adventure, here's a look at what you'll need for your excursion.
Preparing for a Dog Sledding Adventure in Juneau
Learn what you need to know to prepare for a dog sledding adventure in Juneau.
1. Learn Dog Sledding Basics
Historians believe that dog sledding dates back to 6000 BC. It was originally a form of transportation in the northern areas. And it still exists as a popular way to travel up north, though it is far better known as a fun form of entertainment and sport.
The sled driver is called the musher. Mushers often care for the dogs as well and know them in a deep and meaningful way. While you likely won't be driving the sled as that takes years of practice and training, you'll still get to feel the rush of moving swiftly with dogs at the helm.
Mushers communicate with the dogs using consistent commands. That way, the dogs know what to do, where to go, and how to work together.
Dog sledding is cruelty-free. Huskies love to run and their training is gentle using commands instead of any physical contact. The animals are also well cared for with regular vet checkups to ensure they can perform at their best without any risks to their wellbeing. Only fit and healthy dogs participate in dog sledding.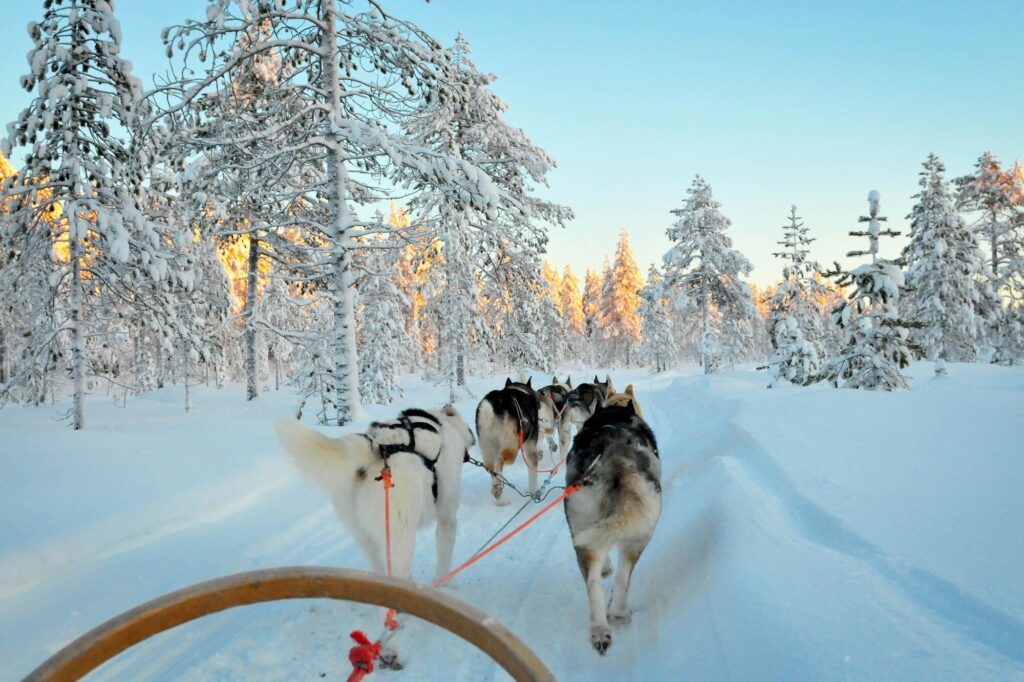 2. What to Wear for Dog Sledding
How you dress for your adventure will vary based on the season. However, given that Juneau is a state with lots of precipitation, tours continue rain, snow or shine. So you'll want to be ready with moisture-repelling attire.
Consider these clothing items.
Thermal underlayer that also wicks moisture away from the body
Jacket or winter coat based on the weather
Snowsuit, when the weather requires it
Wind and water-repelling layer for warmer months when you still want to stay dry and comfortable
Waterproof footwear
Gloves
Hat
Neck gaiter or scarf
Thermal socks with moisture-wicking properties (generally, this means minimal cotton)
Sunglasses (sun glare off snow can be pretty intense even on mildly sunny days)
A warm blanket
Snacks and bottled water
Sunscreen during the summer months
Lip balm
Smartphone or camera
Hand and toe warmers
Review the checklist your excursion company provides you with to see what they recommend and ensure you have the necessary equipment to fully enjoy your time with the sled dogs.
In Alaska, you want to focus more on the practicality of your attire compared to fashion. You won't find trendy clothes on most Alaskans because they know the importance of staying warm and dry.
And keep in mind that you can always remove layers if you get warm. But if you're too cold, you'll be out of luck and won't get the most out of your excursion.
LOOKING FOR A NICE HOTEL IN JUNEAU?
Full kitchens in every suite.
3. Learn the Basic Equipment Involved in Mushing
While you won't need to purchase or bring any mushing equipment with you, it's a good idea to familiarize yourself with some of the terminologies before heading out on your adventure.
The sled is the part that the musher rides on with their necessary equipment and food for the journey. During iconic competitions like the Iditarod, that can be quite a load with overnight materials, plenty of water for the musher and their dogs, etc.
Sleds vary in size based on how many dogs will be pulling them. The more dogs on your sled team, the bigger the sled can be. Dog teams can be composed of 6-20 dogs. Generally, dogs hold the same place in line during every mushing session. They know their role. The pack's leader is at the front.
The sled harness is what attaches to the dogs to allow them to pull the sled. An X-back design uses the dogs' energy and pulling capabilities most efficiently.
When the sled is stationary, the musher will engage the snow hook, which acts as an anchor to hold the sled in place. This helps when the sled makes frequent stops throughout the journey to protect the sled and all its contents. It's like a parking brake but for sled dogs.
To protect the dogs' feet, many mushers place booties on their paws during freezing temperatures. While dogs have pads that help protect their paws, a sharp object or extreme cold could harm their paws.
While the snow hook is like a parking brake, the sled also has brakes that help with slowing it down, steering, and bringing it to a stop. This helps prevent the dogs from getting caught up in their gang lines and potentially getting injured if the sled is traveling faster than the dogs, leading to slack in the lines.
Mushers can also use their feet as a brake or a sort of rudder for steering. However, it's safer to use the sled's built-in brakes.
4. Get Ready to Capture Stunning Vistas
Dog sledding is certainly a fun experience you won't forget. You'll also be in the stunning wide-open spaces Juneau offers. Be sure you have plenty of space on your phone to take dozens of photos.
Depending on the tour you choose, you might also get the chance to take photos with the sled dogs or some sled dog puppies, which are downright adorable.
Many excursions take place in the mountains because that's where the snow is. As such, you'll have the opportunity to capture unique photos that showcase what you saw while in Alaska.
Finding the Best Dog Sledding Excursions in Juneau
Juneau tour companies offer ample opportunities to experience mushing firsthand. But tourists might be wondering how to find the best tours and experiences for the money.
Shop around and read up on the tours carefully. Some accommodate low-mobility and younger tourists better than others. Consider your group and their needs before selecting your excursion.
Many excursions also feature a helicopter ride to get to the mountain where the dog sledding camp is located. This can be a fun way to experience Juneau in another way, though it also adds some expense to the excursion.
Review the various tours and make a list of the pros and cons of each as you search for the best option. You might also consider which tour companies pick you up from your hotel if you don't plan to rent a vehicle during your stay. If the tour company does not pick up from your hotel, this will add some expense to the excursion as you pay for a taxi or rideshare company to transport you to the start of your tour.
Frontier Suites is conveniently located about a half mile from Juneau International Airport. Enjoy the comfort of staying in a suite with a full kitchen where you can cook some of your meals or just relax after a busy day of exploring the area. Book your stay now to secure your preferred dates at the best rates.
Further reading: