Summertime tends to get all the attention when people talk about vacations. But really, since it's dark and gloomy in many parts of the country during the winter, this is a great time for a vacation. A getaway to a Juneau hotel can lift your spirits, bring some adventure to average life and help you feel rejuvenated.
You have more options than heading to the beach during the winter months and spring break. Instead, embrace the beauty of a winter wonderland while you take in the fun winter offers.
We offer seven reasons why you should consider a winter vacation in Juneau.
1. Juneau Hotel Rates Are Lower in the Winter
Generally speaking, Juneau is a very affordable vacation destination year-round. But because tourism slows down a bit in the winter in Juneau, hotel rates tend to be lower than during peak season. Some hotel rates are about half of what they are during the summer months.
After you've spent money on the holidays, it's refreshing to take an affordable vacation to relax and unwind.
You won't find the busy hustle and bustle in Alaska during this time of year like you would in Florida, California or Texas where people seek warm weather. Instead, you'll be greeted by friendly locals and the great hometown feel of the area.
2. Enjoy Fun Winter Sports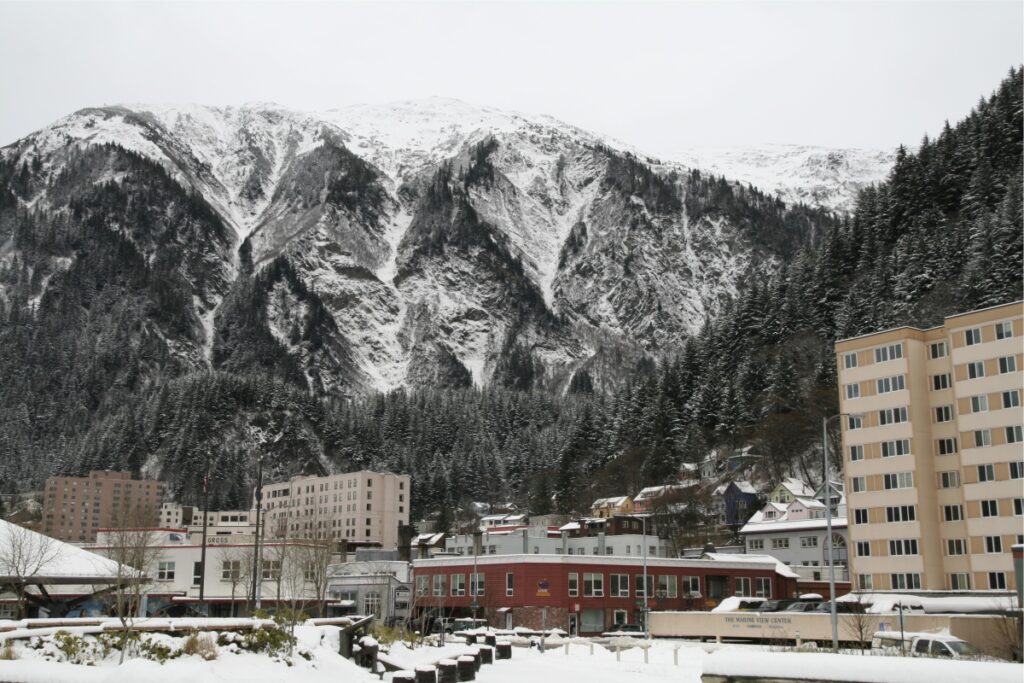 The winter in Juneau is perfect for just about every winter sport. From ice skating to skiing, you'll have a great time outside while you disconnect from your everyday distractions. Here's a look at some popular winter sports in the area.
Ice skating – with plenty of lakes in Juneau, you'll have tons of options for ice skating in the area. Just be sure to ask the locals about whether the ice is thick enough for skating. During rare times of the year, the ice can be too thin and be dangerous to skate on.
Skiing – the city's ski resort, Eaglecrest, is open five days a week. Take in the fresh powder and enjoy skiing or snowboarding. You can also take lessons and have the peace of mind knowing that there's a hill for every skier's expertise. You can also enjoy cross country skiing, but it's best to do tours as some areas are prone to avalanches. You'll want to be with an experienced professional if you're not familiar with the area.
Hike across Mendenhall Lake – one of the most intriguing ways to see Mendenhall Glacier is to hike across the frozen lake. In the summer months, it's several miles to go around the lake. However, in the winter, it's just a short hike to cross the lake. You'll love seeing the glacier covered in snow and its finest glory.
Surfing – you'll need a wetsuit to surf this time of year, but the waves are great at the Shrine of St. Therese. You'll love surfing the crisp winter waves.
No matter what winter sports you engage in, be sure to go with experienced professionals. Take plenty of snacks and a flashlight with you. The days are fairly short in Juneau during the winter, so you'll want to be prepared for nightfall.
3. Take in a Snowy Oasis
If you love snow, there's no better place to be this time of year than Juneau. On average across the U.S., there are 27.8 inches of snow each year. In Juneau, there are 79.8 inches of snow each year.
Some parts of the country just see heavier rain this time of year instead of the beauty of snow. If that's you, it's time for a Juneau vacation where you'll enjoy plenty of snowball fights, sledding opportunities and charming walks through downtown in a winter wonderland.
4. Enjoy a Winter Beach Day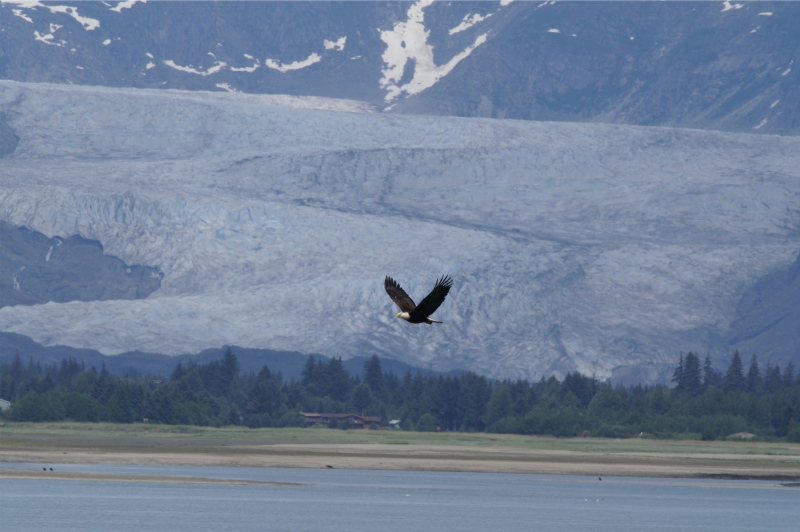 The beach is often touted as a summer activity, but that's because few people have seen how pretty it is in the winter. You might spot some wildlife while you're down by the beach. Enjoy the soothing crash of the waves.
You won't be packing a bathing suit for your beach day though. Layer up and dress warmly as you take in the beauty of the ocean mixed with snow.
5. Cozy Up to Warm Fireplaces
While it's beautiful to see nature during the winter, it's also very relaxing to cozy up next to a fireplace. There's no better time of year for a cozy evening by the fire than winter in Juneau.
Grab a cup of creamy hot chocolate from Heritage Coffee Roasting Co. and get comfortable with your favorite book. Ask your Juneau hotel staff where the best fireplaces are in town. The team at Frontier Suites will be able to guide you to their favorite spots to warm up after time outside.
6. Eat Hearty Comfort Foods
Hot comfort foods are the area's specialty this time of year. You'll still be able to find the classic seafood cuisine you'd expect from Juneau. But you'll also find comforting soups, delicious platters and hometown cooking at its finest.
There are so many great places to eat in Juneau. During a weeklong stay, even if you ate breakfast, lunch and dinner somewhere different, you wouldn't have enough time to test all the fantastic food the area offers. There are 28 restaurants within three-quarters of a mile of Frontier Suites. Without ever having to rent a car or call a cab, you'll be able to enjoy the fabulous food in the area with extreme convenience.
While staying at Frontier Suites, we recommend eating at our in-house restaurant at least once. Northern Cuisine Restaurant is open seven days a week to serve you and is convenient if you don't want to head back outside to walk to a local restaurant.
7. Winter Is a Great Time to See Juneau's Museums
While things are a bit slower this time of year with tourism, you'll be able to peruse Juneau's many museums without any crowds. Enjoy learning about the area's rich history.
If you love history and museums, Juneau is the perfect vacation destination for you because there are so many museums to see. You'll learn about the area's earliest inhabitants and the gold rush that helped put Juneau on the maps.
You won't feel any hurry during your museum visits this time of year thanks to lighter traffic.
Staying at Frontier Suites During the Winter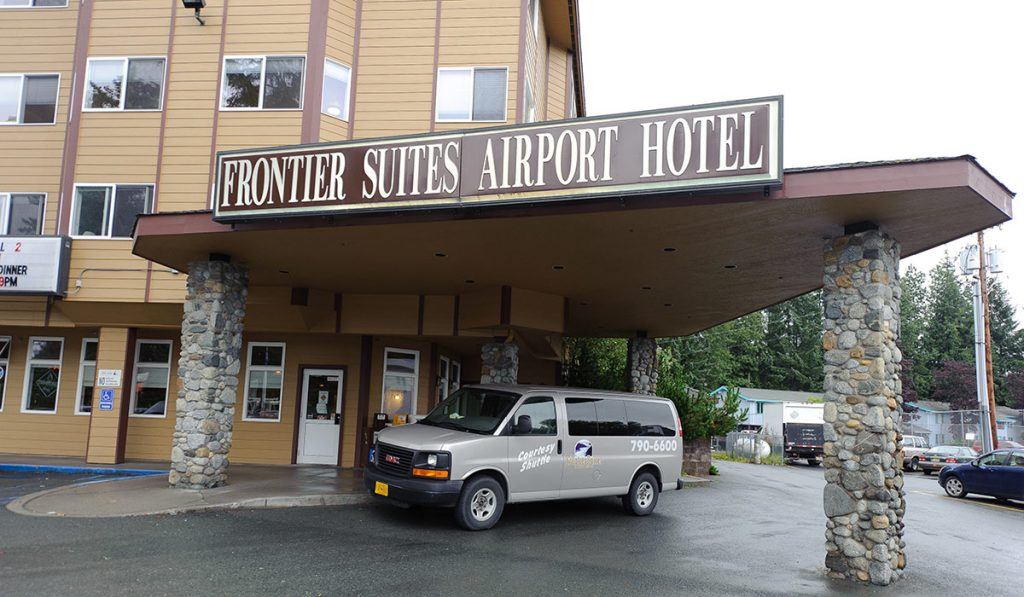 We'd be honored to host you at Frontier Suites for your winter Juneau hotel stay. Our staff will help you make plans for your time in Juneau and ensure you're comfortable throughout your time with us.
You'll enjoy the comforts of home while staying with us. Our rooms have a full kitchen, utensils, dishwasher and high-speed internet service. You'll get cable channels, including seven HBO channels so you can relax and unwind after busy days of engaging in winter sporting activities.
Our rooms can also sleep many guests so that you can vacation with the whole family. We take our time to make sure that our hotel is family-friendly so that you can enjoy making timeless memories together.
Book your winter stay now at our hotel near the Juneau airport. The location makes for an easy travel experience throughout your stay.
Further reading: