Juneau, Alaska, is a very family-friendly vacation destination, partially due to the fact that there is so many things to see and do in Juneau that won't cost you anything. Building a budget for your family to travel might feel overwhelming and stressful. And in the end, you might wonder if you can even take the vacation because the expense is so high.
However, there are several ways you can build an affordable budget for traveling as a family to Juneau. Saving a little here and there on your travel expenses can go a long way in making a trip affordable yet fun for the entire family.
Here's how to build a family-friendly budget for traveling to Juneau.
Go Light on Excursions
Juneau is an outdoor adventure wonderland. While the area boasts many outstanding excursions and ways to see wildlife and the stunning landscape, you can also explore on your own without adding expenses to your travels.
Pick one or two excursions that you and your family really want to experience.
Look for the excursions that offer a day filled with fun for the money you spend. For example, you can go on a glacier cruise for eight hours or a river rafting or kayaking adventure for the day. The prices for such tours are reasonable and will keep your family entertained for an entire day of your vacation.
Spend other days of your vacation doing a walking tour of downtown, hiking Mount Roberts or exploring Mendenhall Glacier on your own.
Book a Juneau Hotel with a Kitchen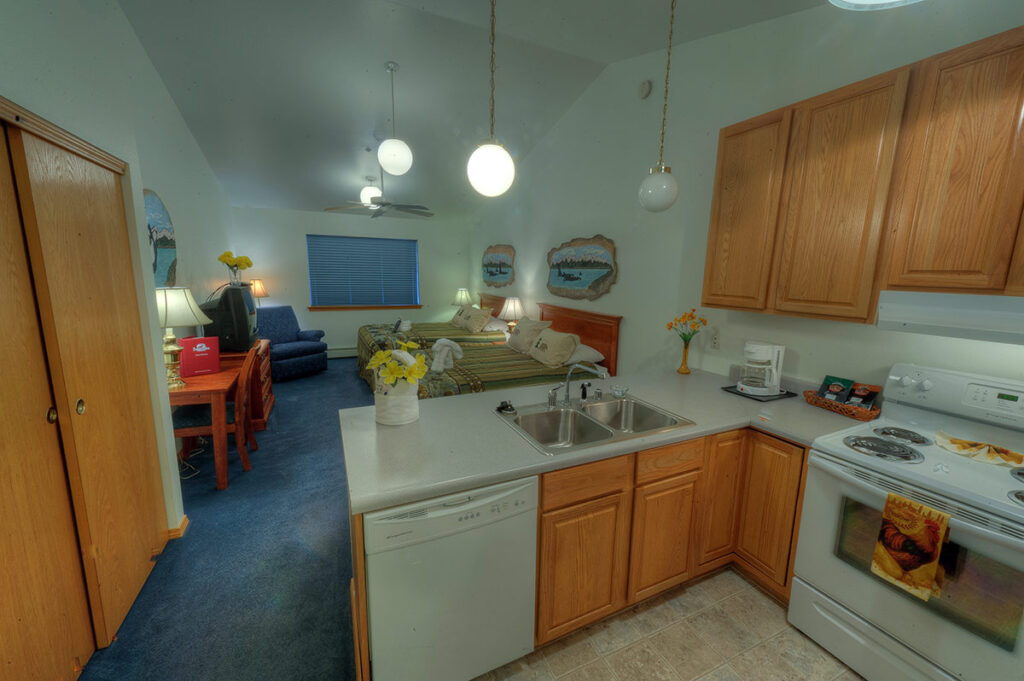 It costs a lot more to purchase food from a restaurant than it does to go grocery shopping and cook your own food. Choose your Juneau Hotel wisely by booking a room with a full kitchen. That way, you can make breakfast each morning. And you might consider packing your lunch for a day of adventure and cooking dinner a few nights in the room as well.
Traveling with children that are picky eaters can be challenging and stressful. But you know what they enjoy eating at home, so just head to the grocery store and make those dishes while on vacation. You'll be glad you didn't spend tons of money eating out for foods they waste.
Pick just a couple of meals to eat out so that you can still experience the local cuisine and fresh seafood. But all other meals, plan to enjoy in your hotel room's full kitchen and take full advantage of your accommodations.
Share Meals with Your Kids
When you do go out to eat, order entrees that you know your children will like. That way, you can avoid purchasing kids meals and save a bit of money for younger children. The great news about Juneau is that it is very family-friendly so you'll find affordable kids meal prices and foods your children will love.
Box up any leftovers and serve them as part of dinner the next night when you stay in and cook in your hotel room. Or enjoy them for lunch the next day if you're staying close to your hotel.
Choose a Hotel with Airport Transportation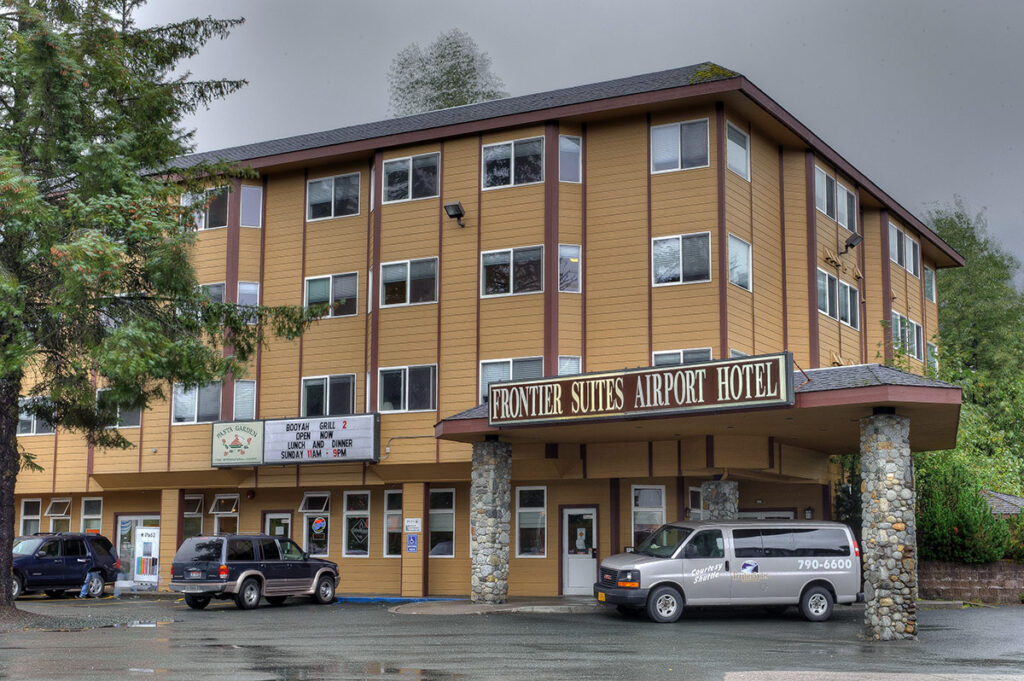 Juneau transportation is generally affordable but one way to reduce your travel expenses is to look for a hotel with airport transportation. Most hotels in the area are a maximum of 15 minutes from the airport.
Plan out your excursions and the attractions you want to see in advance. Try to see everything within one area in a day so that you don't spend tons of money on taxi or transportation expenses.
Frontier Suites offers convenient hotel transportation services for your whole family. We enjoy treating our guests to an outstanding experience in the area and making your family feel welcomed.
Stay Near the Attractions You Want to See
Consider the experience you hope to get while in Juneau and plan your hotel accommodations around that. A downtown hotel puts you within walking distance of many shops, restaurants and museums.
Hotels near the airport offer convenient transportation options when you arrive in town and put your closer to hiking and outdoor adventures. The closer you are to the attractions you want to see, the less you'll spend on transportation.
Renting a car for a family can add a large expense to your travels. Do your best instead to take full advantage of the transportation the area offers. Some excursions might pick you up at your hotel to avoid added expenses. Do your research in advance so you know whether or not renting a car makes sense for your family or if you can instead take a taxi or rideshare where you need to go.
Travel Light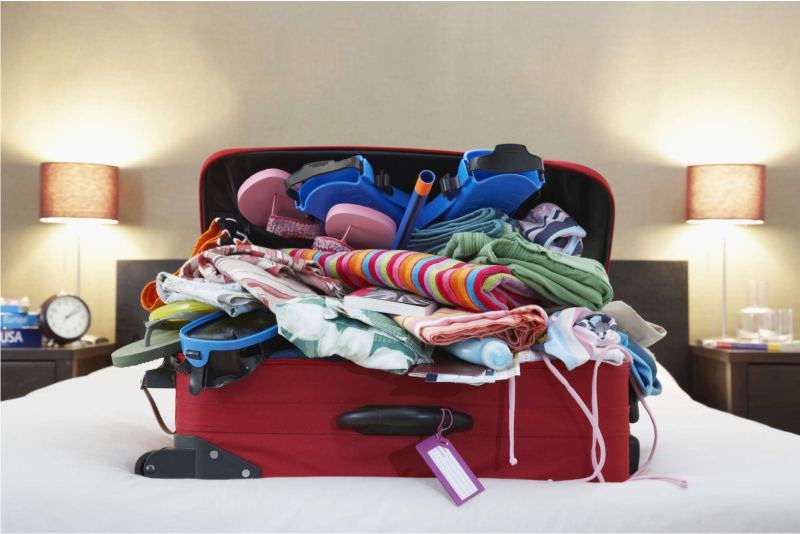 Many airlines now charge extra for checking a bag. The lighter you travel, the lower your total airfare costs will be. And, if you choose to rent a vehicle, the more luggage you have, the larger vehicle you'll need.
Try to bring only the essentials for your family. If you can, add your children's clothes and necessities to your suitcase. This will also put less stress on you during your travels because you won't be trying to carry multiple bags since young children often can't carry their own luggage.
Go During the Slow Season
The offseason for Juneau is September through April. It is generally colder during these months, but if that doesn't bother you and your family, this is the perfect time to go for a budget-friendly trip.
Airfare, souvenirs and excursions all tend to be less expensive during this time. Just watch out for seasonal closures. Plan out what you want to do in advance to see if it's all open during Juneau's offseason. If you're flexible in what you see and do during your travels, the slow season will be great for your family and you'll have less tourism traffic to contend with.
Ask About Special Kid Pricing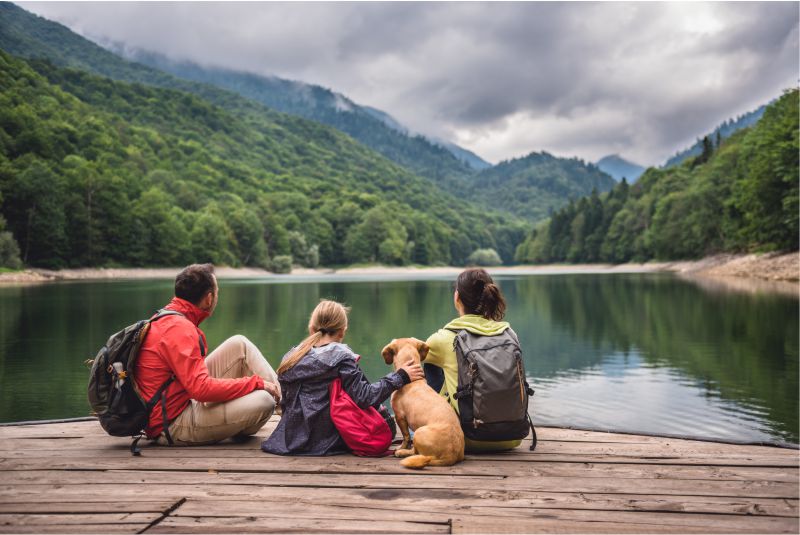 If you choose to go on an excursion, ask about specials for kids. Choose your excursions carefully so that they are adventures your children will enjoy while being affordable for the whole family. Once you choose which excursion to go on, contact multiple companies to learn their prices and policies for children to get the best deal.
Families with very young children might be able to get free admission or tickets for toddlers. It never hurts to ask, so don't be bashful. Plus, these tourist attractions have probably gotten the question before, so it won't be surprising to them.
Stay in a Spacious Juneau Hotel Room
Quality sleep is crucial to enjoying your Juneau experience. Staying in a specious Juneau hotel room means you get the private sleeping areas you need for your whole family without spending extra money on multiple rooms.
Frontier Suites offers a Queen bunk suite that sleeps five people comfortably thanks to a pullout sofa bed. One of the queen beds is in its own room so that you can have privacy from your children. And each room has a TV so you can enjoy different cable programming.
Book your family-friendly Juneau hotel stay with Frontier Suites today to enjoy the stunning outdoor adventures Alaska offers.
Further Reading: