Choose The Best Hotel Near Mendenhall Glacier
When you're planning a Juneau vacation, be sure to include time at the Mendenhall Glacier, the must-see Alaska tourist destination. Although the glacier is only about 13 miles from downtown Juneau, why not choose from hotels near Mendenhall Glacier, a 13-mile glacier located in the 1,500-mile Juneau Ice Field.
The Frontier Suites is one of seven hotels located less than five miles from the Mendenhall Glacier Visitor Center. It offers multiple amenities, including suites with fully-equipped kitchens, a fitness center, laundry, a hotel restaurant, and a free airport shuttle.
Frontier Suites
Distance to the glacier: 3.9 miles
Hotel amenities: Free parking, free high-speed internet, kitchen, fitness center, pet-friendly, non-smoking rooms, suites
Guest reviews: Guests praise the Frontier Suites for the quality of the accommodations, the friendly staff, and the functional kitchens.
We are staying here over Christmas week. Our room looks new! It is clean and well furnished. The kitchen is fully equipped for long-term stays. The staff is friendly and courteous. We would definitely stay here again!
We stayed here while visiting our son! It was extremely close to the airport and downtown Juneau. The staff was more than accommodating, room was exceptionally clean, and it truly was home away from home!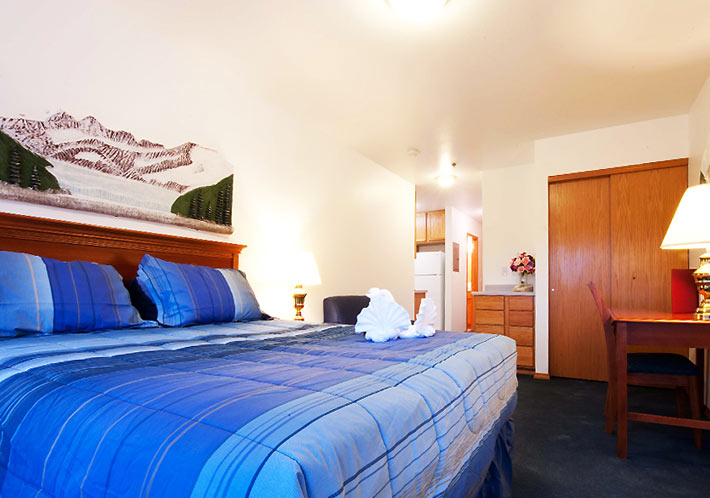 I've had an excellent stay at the Frontier Suites. I've read some of the other reviews here and they are simply not true (or over the top exaggerated). Linens were new, spotless! My bed was comfortable and just the right size.
The bathroom was nice and clean. The manager was super friendly and went out of his way to make my stay more than worth the money. The location is great. Several restaurants in walking distance. There was zero noise in my room. Nothing to complain about and will stay here again.
The room was everything a traveler or family needs. Washer/Dryer, Kitchen, Living Room, Shuttle to and from Airport, Decor of the region. Great staff, A+++++ Highly recommended for the Airport Hotel. Thank you Frontier Suites!!!!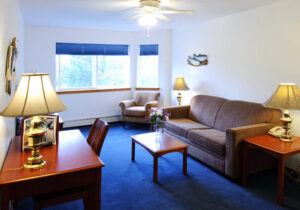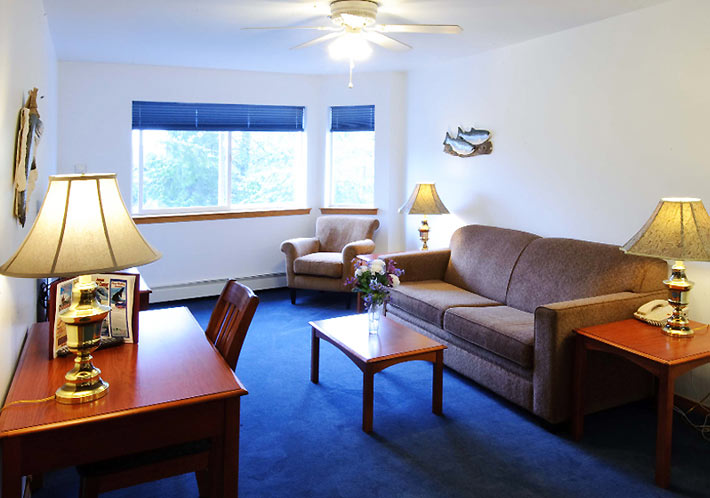 Pick a season of the year or any type room and I am familiar with it. They have a facility that can accommodate any traveler. Rooms were up to date and the kitchens are complete and wonderful to cook in. Linens are always first class and attractive. The housekeeping staff is always first-rate when I visit. Loved not having to go outside in bad weather. The staff is great and very accommodating. They all spoke English, which is unusual these days. Shuttle service never let me down and always had a smile. It is a wonderful place to come "home" to after a long day. My choice in Juneau.
Best Western Country Lane Inn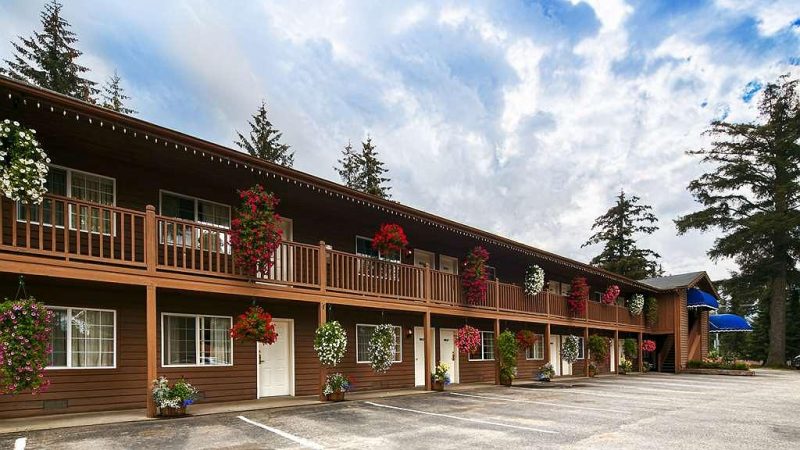 Distance to the glacier: 4 miles
Hotel amenities: Free parking, free high-speed internet, pool, bicycle rental, non-smoking rooms
Guest reviews: Guests praise Country Lane Inn its location, breakfast buffet, and shuttle service.
I stay here often the hotel is a good location to area food and airport. The rooms are comfortable and breakfast good. Most importantly, they have a shuttle to ferry and airport and will take you to medical appointments.
There was a large number of us checking in at once, and the front desk was very speedy and efficient. The breakfast was a varied selection of hot and cold items, including eggs, bacon and biscuits & gravy. Their shuttle service is beyond anything at any other hotel I've stayed at! They have scheduled times for local shopping along with the ferry terminal and airport…they even offered me a ride to church! The shuttle is available 24 hours a day, which exceeded my expectations! Rooms are clean and beds comfy. I travel through Juneau frequently and will definitely make Best Western my go-to hotel.
We stayed here at the beginning and end of our trip to Haines. The hotel is clean, and the staff is friendly. You can request a room on the first floor when making the reservation. It is helpful to stay on the first floor, as they don't have an elevator. Of course, they will help you with luggage if necessary. Breakfast is simple, but good. They have scrambled eggs, bacon, biscuits and gravy, French toast sticks, cereal, oatmeal, breads, muffins, etc. They offer a shuttle to downtown every 2 hours from 7 am to 7 pm, with returns on the quarter-hour every 2 hours. But you must request it at the front desk. They also offer a shuttle to the airport.
Best Western Grandma's Feather Bed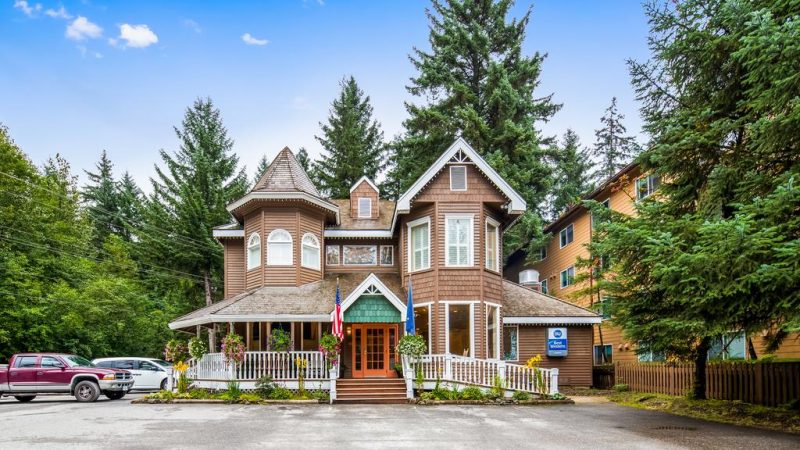 Distance to the glacier: 3.8 miles
Hotel amenities: Free parking, free high-speed internet, bicycle rental, fireplaces, non-smoking rooms
Guest reviews: Guests praise Grandma's Feather Bed for its homey appeal.
The staff made us feel like we were guests in their own home. I've traveled over 50′ days in motels this year, and this was by far the best. Every room is different and charming. The beds were super comfortable, and we had the cutest little dining set in the cupola of the Victorian-style building where we ate our meals. They have a huge menu in a tiny restaurant that will deliver to your room at no extra charge. If they added a bar, this place would be off the charts, but I still give 5 stars.
This was our first overnight land accommodations on a three-week trip covering Alaska and Yukon Territory. (We had arrived on the Alaska state ferry — a great way to travel, and we had a stateroom.) I was dubious of the name Grandma's Feather Bed when our Homer-based travel agent gave us her suggested itinerary, but she proved to be "right-on."
Spending a night at Grandma's for a solo business traveler feels more like being welcomed into a friend's home than a hotel. The service is excellent, and the restaurant offers wonderful choices in a comfortable setting.
Extended Stay America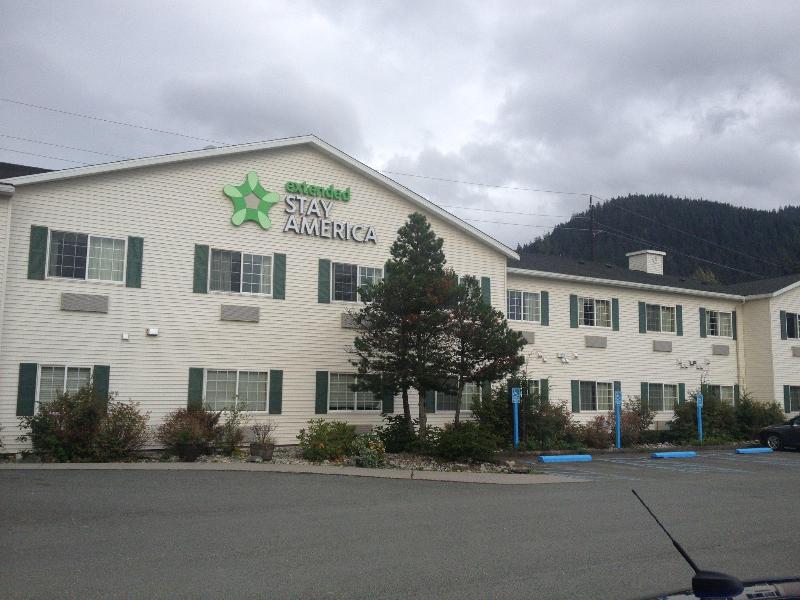 Distance to the glacier: 4.1 miles
Hotel amenities: Free parking, free high-speed internet, pool, pet-friendly, non-smoking rooms
Guest reviews: Guests praise Extended Stay America for its location and comfort.
The motel has free parking and is about one-quarter mile from the Juneau airport. I had a quick check-in. The rooms have inside entries. The room had everything I required, and I got a good night's sleep. My check out went quickly, also.
Great place to stay. Always stay here when in town. Friendly staff. Love the location. Great food within walking g distant. The rooms are spacious and have a kitchenette, so if you are here longer than a day or two, you will not have to eat out every day. Love it!
I've been coming to this Extended Stay America for the last three years, and it's always comfortable, clean and the staff is very polite. They also seem to be upgrading the experience this year with the new casting features and enhanced Wi-Fi. I definitely recommend!
Juneau Aspen Suites Hotel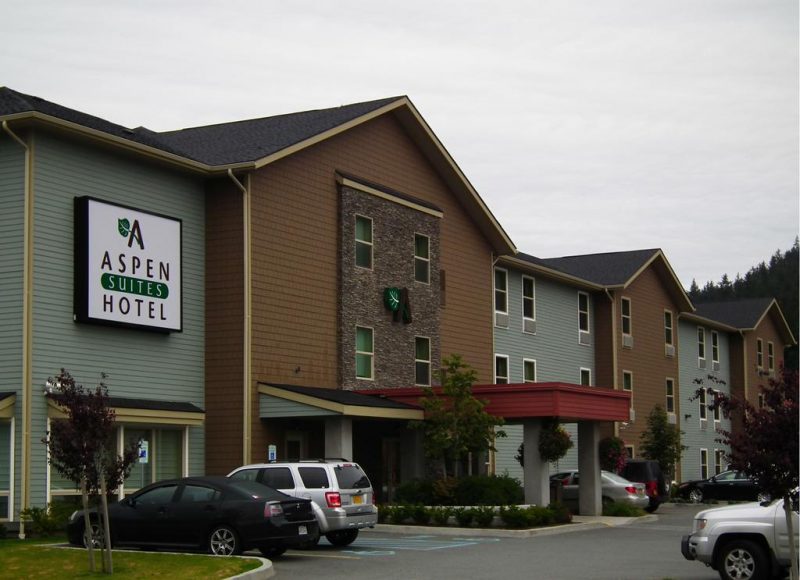 Distance to the glacier: 4.1 miles
Hotel amenities: Free parking, free high-speed internet, fitness center, kitchenette, non-smoking rooms
Guest reviews: Guests praise the location and convenience of the Juneau Aspen Suites.
Trash bags are ridiculous…no maid service during longer than weeklong stay…other family members stated sheets were never changed during their stay. Front desk personnel were helpful. Maintenance attended to telephone issue promptly.
We had a rental car. This location was easy for our time in Juneau to work, to get downtown, and to get to the glacier. We did not have a lot of time there, so the location to the airport was key. It allowed us to take advantage of our time there and to see some sites. Very clean accommodations. No breakfast, so be prepared for that.
The rooms are clean and comfortable. The location is close to the airport, and if an early morning flight is your concern, the location is excellent. The location itself is best described as light industrial located about 7 miles outside of downtown. Retail shopping or restaurants beyond to Subway or Papa John's do not exist on this side of the busy highway, where there is a Fred Meyers that would be difficult to access without a car.
SUPER 8 BY WYNDHAM JUNEAU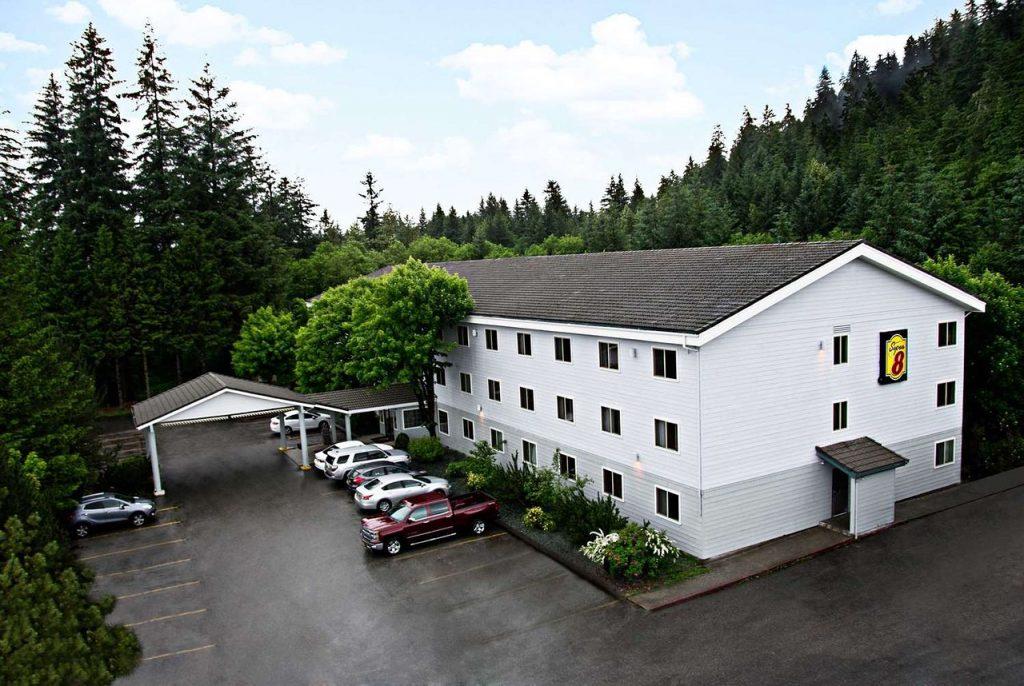 Distance to the glacier: 3.8 miles
Hotel amenities: Free parking, free high-speed internet, free airport transportation, self-serve laundry, non-smoking hotel
Guest reviews: Guests praise the Super 8's staff and free breakfast.
The crew at Super8 Juneau was great, especially Majesty at the front desk. Weather caused my flight to be canceled, so I stayed a second night. Breakfast was good both mornings, with a lot to choose from, including hot and cold cereals, and waffles you can make yourself when you're ready.
Friendly and helpful staff. Clean room. Convenient location for what we needed. Overall pleasant stay. Nice breakfast spread with extras like Aussie bites and decaffeinated tea. Parking was easy with plenty of close spots available.
A short walk from the airport, if necessary. They'll send a shuttle upon your call. Great value, It's several miles to the downtown area where the cruise ships anchor. Car rental available at the airport. We got a car, so we could keep our own schedule. Extensive breakfast provided one of the better: many choices, great coffee. We ate dinners downtown at Saffron (excellent Indian, off the beaten path) and the Hanger on the Wharf (basic American, busy and noisy, great view of the cruise ships). Also at Hot Bite at Auke Bay Marina (burgers, fries, shakes). There's a McDonalds and Quik Mart across the street for snacks and drinks. We would visit again.
Travelodge by Wyndham Juneau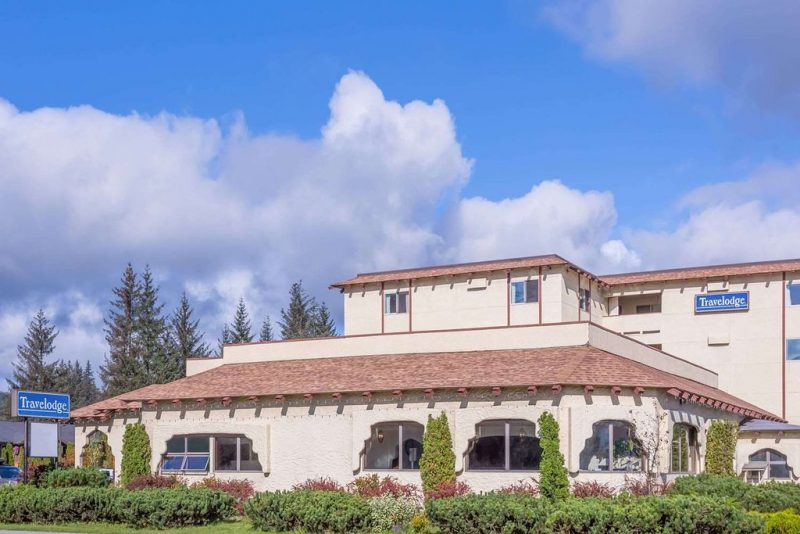 Distance to the glacier: 4 miles
Hotel amenities: Free parking, free high-speed internet, free airport transportation, pool, fitness center, room service, non-smoking rooms
Guest reviews: Guests praise the Super 8's staff and free breakfast.
The room I stayed in was clean and a good size, but the bed and pillows weren't the best. That wasn't even the worst of it. There was very loud banging, like someone slamming furniture against the wall. This banging sounded like it was in the room below me and went on until 1 in the morning. The good parts were the staff except for the one who handled my checkout at 3:30 am. Everyone else was very friendly and helpful.
We were satisfied with the room. Only stayed one night. Great price. Lousy breakfast- sorry guys … what they serve is not a continental breakfast – no waffles, pancakes, hot eggs- sadly inadequate. The front desk staff were friendly and helpful. The room was basic but clean, and comfy beds.
The staff truly cares and is very attentive. The restaurant and bar are great! The room was clean and had all the accommodates you would expect. The workout center is not up to par; there are older machines in there for the photo op only. They didn't work when I got there, and then they fixed 2 or 3 of the 5. No weights or resistance machines, and the room is literally 80 degrees, shared with the heated pool.
Make the Best Choice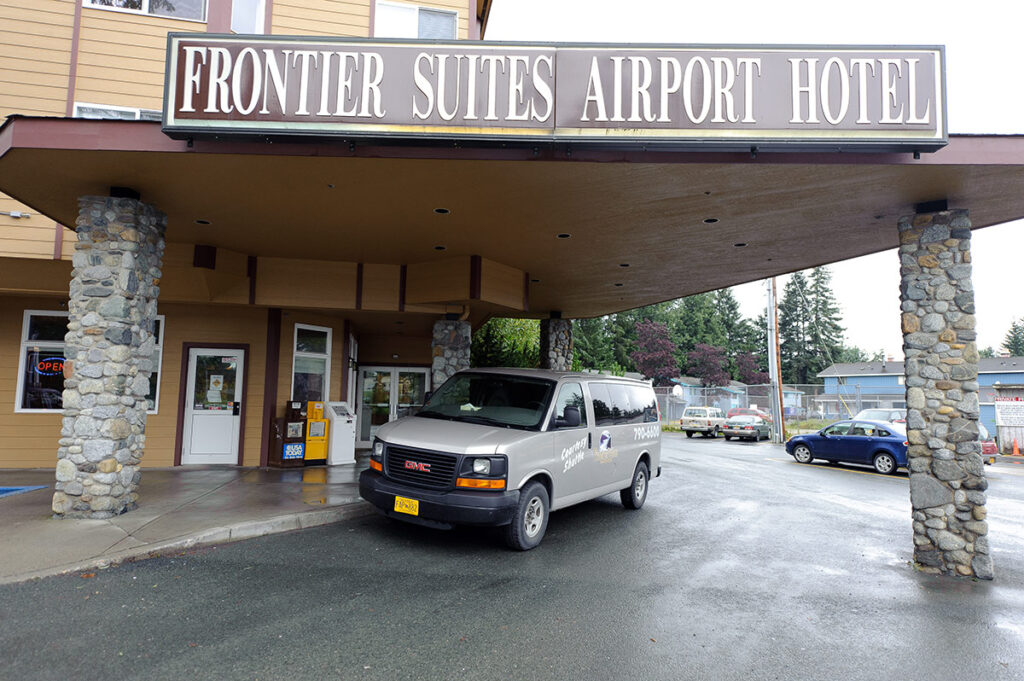 Choosing the right hotel can make a great vacation better, and we're confident the Frontier Suites provides the services and amenities to please even the pickiest traveler. When planning your trip choosing from hotels near Mendenhall Glacier will make it easy for you to spend time at Juneau's natural wonder.
Our newly-renovated hotel offers suites with kitchens suitable for families or solo travelers headed to the Mendenhall Glacier. Book your stay today!
Further Reading: