Last month we published a guide to picking the right Juneau hotel near the airport. The article included information on making a list of must-haves for your stay, checking out maps to get a better grasp of the area, and reading up on reviews. Now that you know how to pick a hotel close to Juneau International Airport, we'll review your options.
As you evaluate the list, don't forget our tips on factoring in amenities and other costs when budgeting for your trip. Cheap hotels might lack resources, such as hotel transportation, parking, a safe walking distance to attractions, etc.
Hotels close to Juneau International Airport
When you choose a hotel close to Juneau International Airport, you can almost guarantee that you'll have a relaxing and enjoyable trip. You'll avoid added transit time during your trip and save more time for resting and enjoying the stunning sites and adventures that Alaska boasts.
To guide you in choosing the right hotel near the airport to meet your specific travel needs, here's a list of some of the best options.
Frontier Suites
The cost of staying at Frontier Suites is lower than many other overnight accommodations in the area. The on-site restaurant allows your trip to be leisurely while still enjoying the local fair. The River Rock Lounge has extended hours to allow you to socialize and rest after a long day.
According to TripAdvisor, it's ranked as the seventh-best hotel for the value out of 67 hotel options in Juneau. It offers the charm and local knowledge you'd find at a bed and breakfast with the privacy and additional resources of major hotel chains.
Juneau Hotel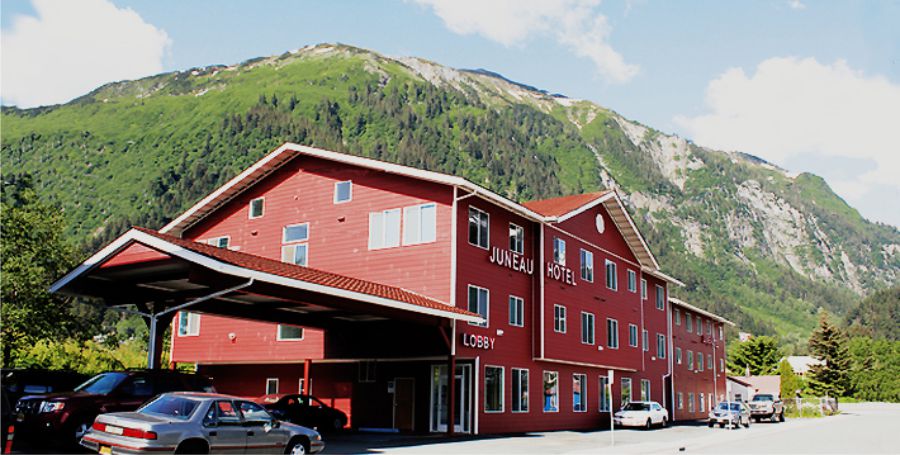 Although it's situated about six and a half miles from Juneau International Airport, Juneau Hotel offers airport transportation. Staying a little bit outside the downtown hubbub of the city might be nice for you and your family to enjoy your travels. And depending on your activities, you might prefer the location that Juneau Hotel offers.
You'll still only spend a short time traveling between the airport and your hotel when you stay at Juneau Hotel but you'll get suite accommodations with in-room washer and dryers, full kitchen and many other fantastic features to make your stay more enjoyable.
Best Western Grandma's Feather Bed
There's plenty of charm to the Best Western Grandma's Feather Bed. It's a converted old home. As such, there are only 14 rooms and very few options for your accommodations. Each room has one queen-sized feather bed. If that's not your thing, you'll need to go elsewhere.
The per-night price reflects the exclusivity of the 14 rooms so be prepared to pay a bit more each night to stay here. It is a fully non-smoking hotel and no pets are allowed.
Juneau Aspen Suites Hotel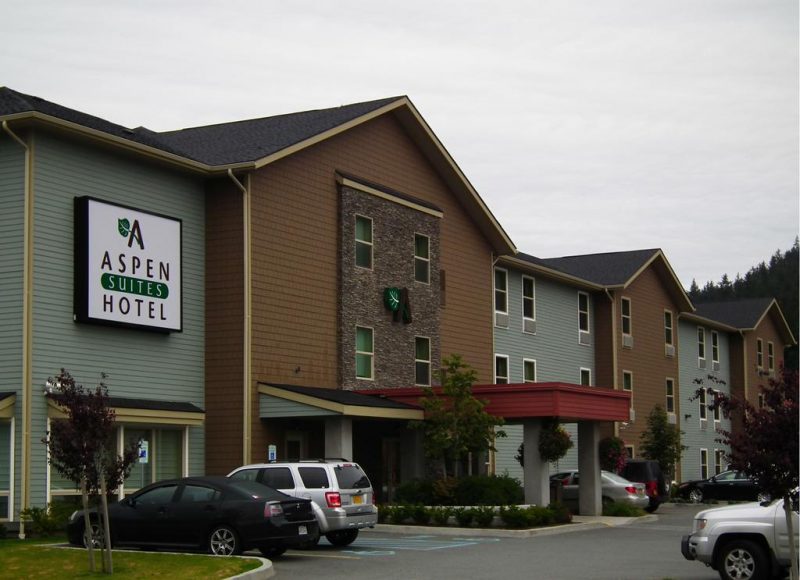 Choose from one or two queen beds in your room and enjoy staying near many interesting tourist attractions. It's extremely close to the airport, meaning you'll have fast transportation times to and from the airport.
The hotel is reasonably priced and has decent amenities. Read the online reviews carefully as some people claim their rooms did not meet their cleanliness standards.
Best Western Country Lane Inn
A more traditional hotel setting than the Best Western Grandma's Feather Bed, you'll have more options for your accommodations. However, the price is still significantly higher than some other hotels in the area.
This Best Western also has room access from the outside, which can be less secure than facilities where you have to be inside the building to access the various rooms. Because the hotel is located in the center of the city, it does offer many restaurants within walking distance so that you can enjoy your stay without needing to rent a car.
Super 8 By Wyndham Juneau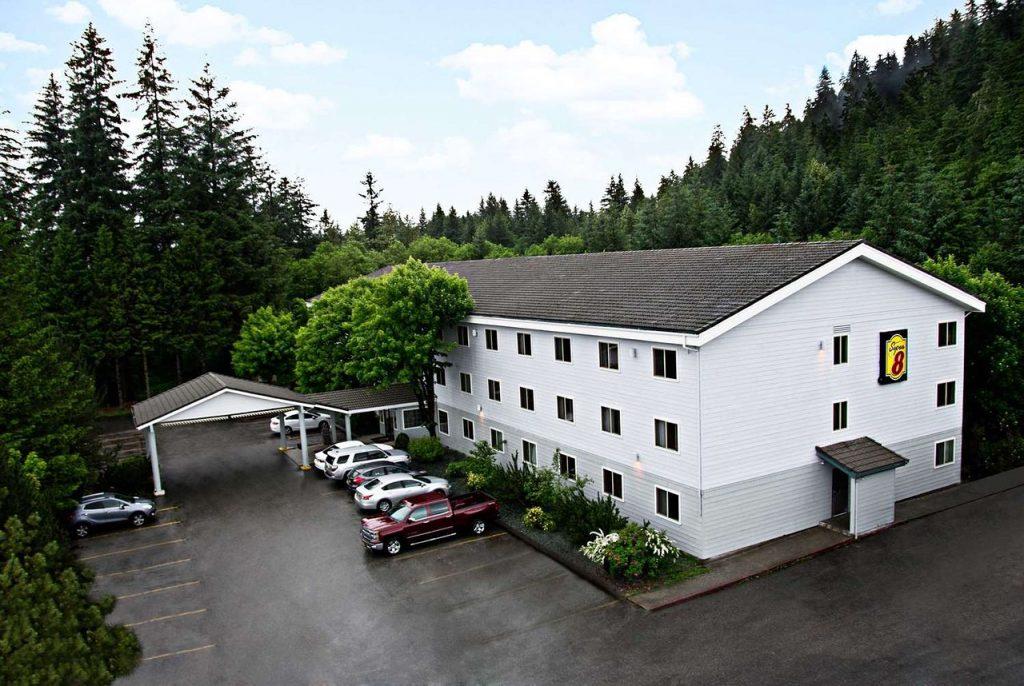 Super 8 hotels tend to be budget hotels and the Juneau options are no exception. It's a two-star hotel but it is situated so close to the airport you could walk there if you wanted to. (Though walking .75 miles with luggage is probably not something we would recommend).
The hotel offers a budget-friendly option that still puts you at the heart of all the activity, though there are some three-star hotels in the area that have competitive prices with the Super 8. You'll find free parking and free hotel transportation at the Super 8 By Wyndham Juneau hotel to meet your transportation needs, no matter whether you decide to rent a car or not during your stay in Juneau.
Travelodge By Wyndham Juneau
Another budget-friendly two-star hotel with quick and easy access from the airport is Travelodge By Wyndham Juneau. Although it is not modern or updated, it does have the necessary services and functions the average traveler searches for in a hotel stay, including free Wi-Fi, airport transportation, in-room microwave and fridge, and a flat-screen TV.
Because it's a bit further outside the main city, you'll have fewer restaurant options within walking distance, but the options you're close to are great food.
Best ways of booking travel in 2020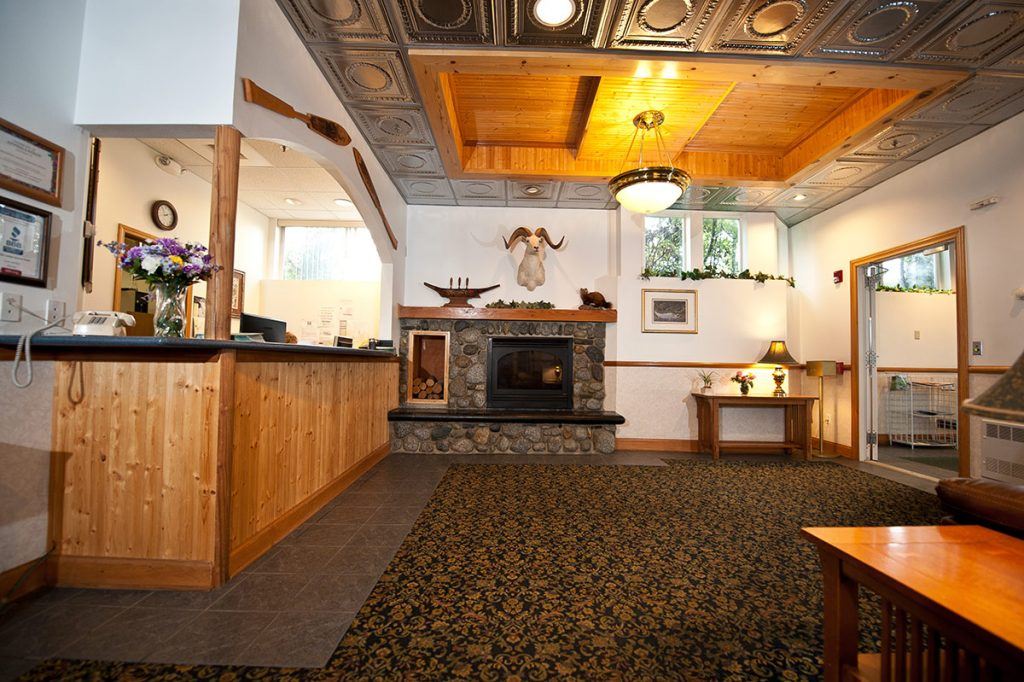 This year has thrown a curveball for travel due to the coronavirus pandemic. The restrictions on travel have left some vacationers out serious expenses due to hotel, airline or other travel company no refund policies. You won't find that in booking with Frontier Suites.
We know the travel situation is constantly changing and here at Frontier Suites, we're willing to work with you to ensure changes in travel restrictions don't affect you negatively. The online booking form does require credit card information, but you won't be charged just yet. We hold this information as a way of keeping your reservation so that your room is ready when you arrive.
When you book through our website, we don't charge you until you check-in. If you end up needing to cancel your stay, just do so by 3 p.m. Alaska time one day prior to your stay to avoid late cancelation fees. It's one way we're helping you keep your travel plans secured without serving up financial penalties during this rapidly changing and evolving situation.
Further Reading: