Downtown Juneau is a bustling and fun place to be. Yet many people visit Juneau for its astounding outdoor experiences. If that's why you're headed to our city, we highly recommend staying at Juneau airport hotels.
These hotels are still conveniently located and make it easy to get around the area to see all that you want to during your stay. But without the bustle of downtown, they put you closer to nature and the great hiking and running trails Juneau features.
Airport hotels are still only a few miles from downtown, making it convenient to go to town for a bite to eat or some sightseeing. An airport hotel puts you closer to great outdoor experiences, including:
Tongass National Forest
Douglas Island
Auke Lake
Mendenhall Glacier
Choosing between a downtown hotel and an airport hotel can be somewhat challenging. But consider what you hope to do during your stay when evaluating which is best for you.
If it's hiking and running trails you're looking for, consider an airport hotel in Juneau. Here's more information about what Juneau offers for this fun vacation activity.
Kaxdigoowu Heen Dei Near Juneau Airport Hotels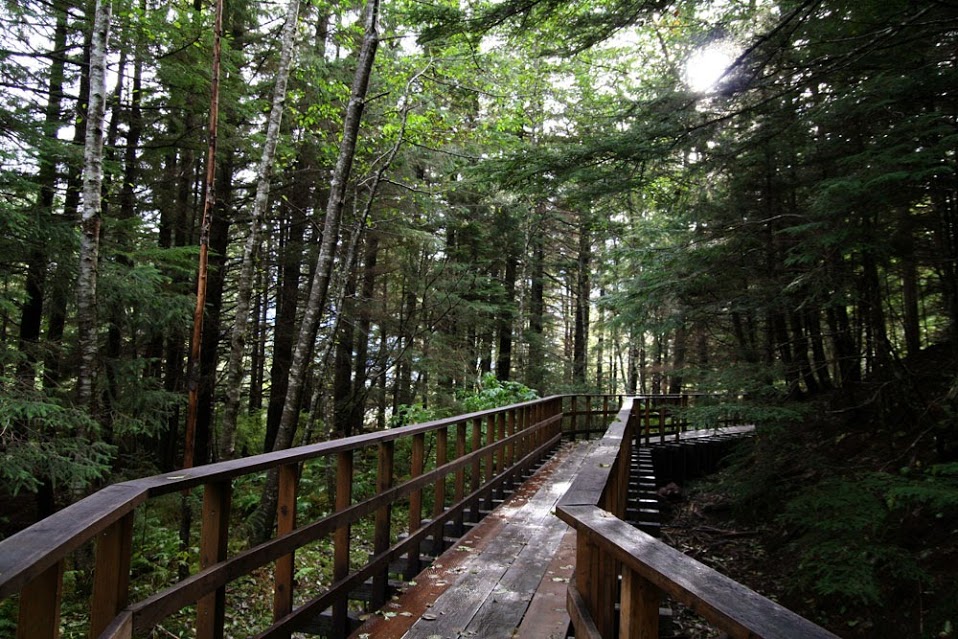 Head to Auke Bay off of Glacier Highway where you can pick up the Kaxdigoowu Heen Dei trail. One great benefit of this trail is that it is paved, so even novice hikers can relax and have a great time.
It's a heavily trafficked trail since it takes you through the woods without any need for hiking boots or blazing your own trail. Additionally, if you're traveling with your canine companions, this trail is very dog-friendly, though you must keep them on a leash.
Families also enjoy this trail because it's easy to push a stroller on the paved path. And young hikers won't struggle with roots and quick changes in elevation like some other hiking trails can have.
You'll encounter some great bird watching in this area and get a great view of Mendenhall Glacier. Because the trail has many offshoots, it will feel like an adventure as you decide how to weave your way along the area.
The trail is approximately four miles out and back, which makes it attainable for hikers of all experience levels. Enjoy picturesque bridges that overlook Mendenhall River and soak up a true Juneau experience.
Casual Hiking at Airport Dike Trail
If you aren't big into hiking but still want to experience some of Juneau's fun nature areas, head to Airport Dike Trail. This is within Mendenhall Wetlands Game Refuge and is fully paved. It's only a mile long and is quite easy for beginner hikers.
You'll get the chance to watch waterfowl and take in some neat bird watching. It's a great introduction to the area without putting too much strain on your body. Plus, it's extremely close to get to this trail from most airport hotels.
Hike Through History on Treadwell Mine Historic Trail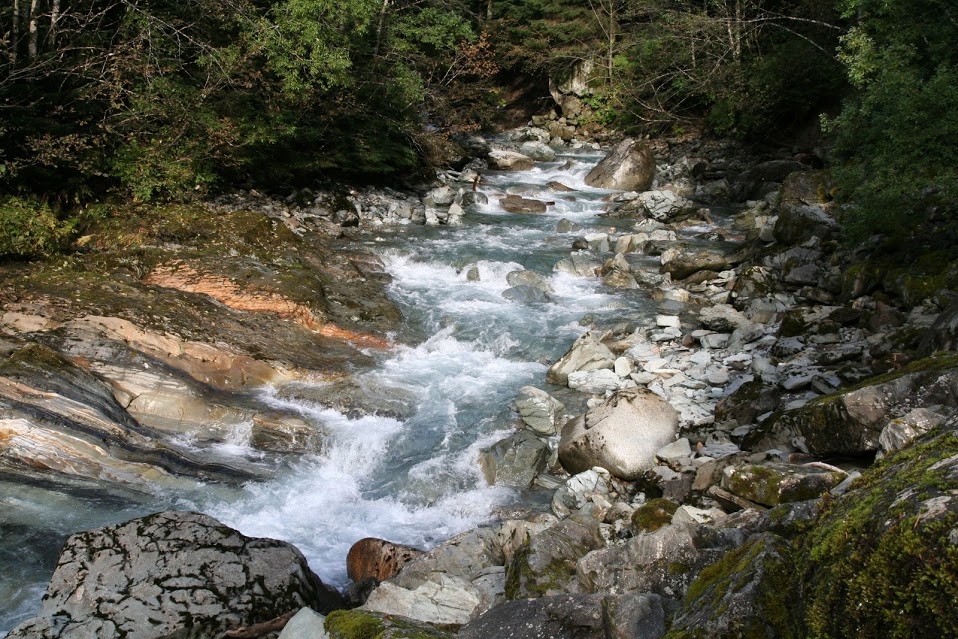 History buffs will love hiking Treadwell Mine Historic Trail. You'll see some neat sites from Juneau's rich mining history. But you'll also learn more about how the area developed.
This two-mile loop is a moderate hike and includes nature experiences along with historic landmarks. You'll learn more about the Gastineau Channel and perhaps spot an eagle's nest, depending on what time of year you visit.
Go from mine ruins to a sandy beach as you explore everything that makes Juneau such a unique vacation destination.
Douglas Island Dan Moller Trail
If you're looking for a longer, slightly more challenging hike, head to Douglas Island. The Dan Moller trail is six-and-a-half miles long and offers beautiful views and wildflowers along the trail.
While the trail is a bit more rustic compared to some of the other options we've covered, it still features good footing to make it easy to access for hikers of all experiences. You'll walk through the woods on mostly flat terrain.
For more experienced hikers, you can keep hiking along Treadwell Ditch Trail, which offers an additional 16.5 miles of hiking. Even though this is a longer trail, it's still fairly easy hiking but will take you through more stunning outdoor vistas.
Perseverance Trail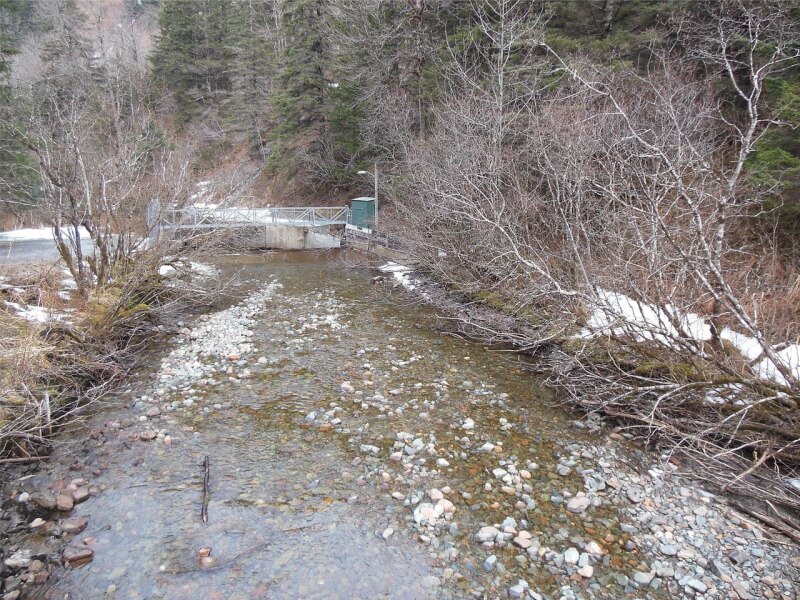 Hike near Gold Creek into the Silverbow Basin. This is the area where miners first found gold during the Alaska gold rush. This event put Juneau on the map in many ways.
Enjoy the peaceful sounds of Gold Creek as you go back in time to an important part of Juneau's history.
Gold Creek is fed with snowmelt, which makes it crisp and beautiful. You'll enjoy the three-mile hike. The trailhead is near the Last Chance Mining Museum. Pause and experience the Alaska gold rush during your travels in Juneau.
Now that you've seen the creek and Silverbow Basin where the gold rush began, you can learn more about it from the museum and see astounding equipment used during the height of the mining days in Juneau.
Why Juneau is Great for Hiking
That's only a small sampling of the many outstanding hiking trails that Juneau offers. Check out the full Juneau Trail Guide on Adventure Flow for more details about hiking in the area.
If you're not sure whether Juneau is the right place to make your vacation destination, check out these reasons why hiking is so enjoyable in the area.
The cooler weather makes hiking comfortable year-round. Even at the peak of summer, you'll be hiking in 60-degree weather to keep you comfortable during your trek.
Juneau has more than 250 miles of hiking trails, which means you'll stay pretty busy during your travels.
The wildlife makes for a unique hiking experience. In many other parts of the country, you won't have the opportunity to see wild bears, salmon doing their unique hike upstream and bald eagles soaring overhead.
Juneau is incredibly friendly. While you're out hiking, feel free to ask for directions or just say hi to others that you encounter. You'll enjoy how personable people are in the area.
Choose your setting. You can stroll along the beach, tackle up to 3,500 feet of vertical hiking or experience a dense rainforest. Juneau really has it all when it comes to nature experiences.
Preparing for Hiking in Juneau
The right preparation will make your Juneau hiking experience so much better. Here's a look at some of the ways you can start preparing for your hike now.
Get some maps and learn more about the area. You don't want to get lost during your travels.
Consider hiring a guide. Guided hikes are a good way to get started in Juneau. You'll learn more about the area from experts and protect yourself from wildlife that you might not know how to handle if you encounter them.
Pack plenty of water. Even though the weather is temperate in Juneau, you might be surprised how much work hiking is. You don't want to get dehydrated and uncomfortable while out on the trails. And because Juneau is such a great place to get close to nature, you won't find vending machines or water fountains to refill along the way.
Pack a snack. Remember that you're in nature though and only bring things that are wrapped to avoid overly eager wildlife from joining you for snack time.
Dress in layers. Juneau weather can be somewhat unpredictable. While you might leave your Juneau airport hotel during a beautiful sunny day, that can change quickly to damp and rainy. Avoid being too chilly by starting your day in layers.
Bring a backpack for extra gear. Even a small backpack will be a helpful companion to your hiking so you can put water and clothing layers in the bag just in case.
Booking a Stay at Frontier Suites Near the Airport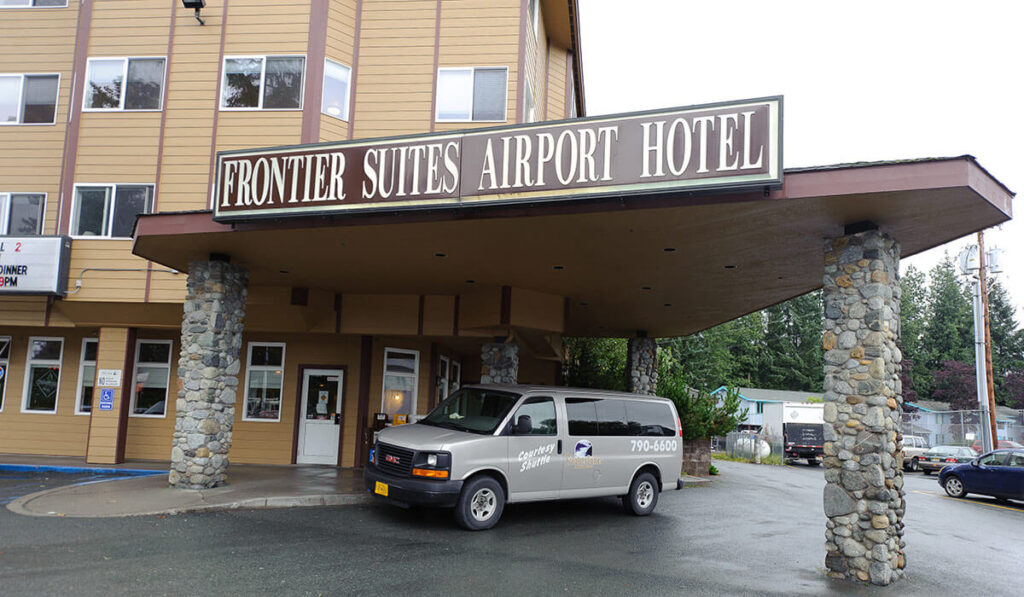 Prepare for your hiking and nature adventure by booking your Frontier Suites airport hotel stay. Our team is happy to provide recommendations for the best things to do in the area, including the best hiking trails. Book your stay now and start planning your fun Juneau adventures.
Further reading: