***Numbers updated for 2022***
Juneau is the scenic capital of Alaska that offers plentiful outdoor activities and astonishing sights year-round. It has an authentic feel of a quaint town that has preserved all the good things that define small, western towns in the United States. The town is hospitable, friendly, and quiet — the perfect balance for someone who loves the outdoors, making new friends, but also having the opportunity to relax.
Most people looking for extended stay options in Juneau, AK, either come for business, government work, or simply to enjoy the fishing, whale watching, or diving for a longer period.
Regardless of what brought you to Juneau, you'll want to ensure that your lodging corresponds with your needs and budget. We've put together a list of hotels that offer extended stay in Juneau and have prepared an overview to help you decide. Keep in mind that options are limited, and the best options run out quickly. So if you are looking for a place to stay for a longer period of time, it's best to plan ahead.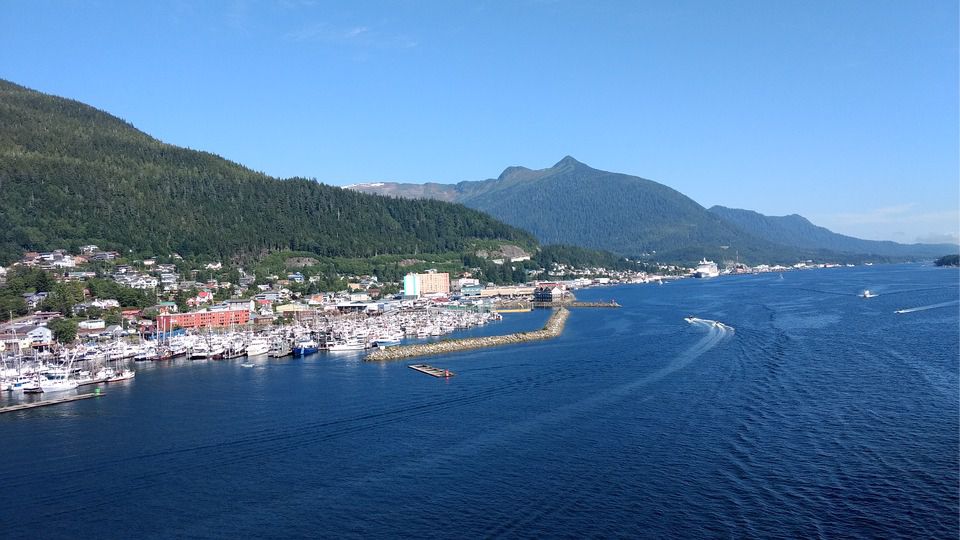 Hotels Offering Extended Stay in Juneau, AK
| | | | | | |
| --- | --- | --- | --- | --- | --- |
| Hotel Name | Extended Stay Special? | Price per night | Rating on Google | Distance to Mt. Roberts Tram | Distance to Airport |
| Aspen Suites Hotel | Yes | $189 | 4.1 | 9.1 miles | 112 ft |
| Juneau Hotel | Yes | $55 | 4.4 | 1.1 miles | 9.3 miles |
| Ramada by Wyndham Juneau | No | $189 | 3.6 | 0.6 miles | 8.2 miles |
| Frontier Suites Hotel in Juneau | Yes | $55-$59 | 4.0 | 10.1 miles | 1.1 miles |
| Alaskan Hotel | No | $100 | 3.8 | 0.3 mile | 8.9 miles |
| Baranof Downtown Hotel | No | $149 | 3.7 | 0.4 mile | 8.1 miles |
| The Driftwood Hotel | No | $89 | 3.7 | 0.7 mile | 8.1 miles |
| Extended Stay America | Yes | $140 | 3.6 | 8.7 miles | 100 ft |
🌟🌟🌟🌟🌟 Editor's Choice: Juneau Hotel ($55 per night for extended stay)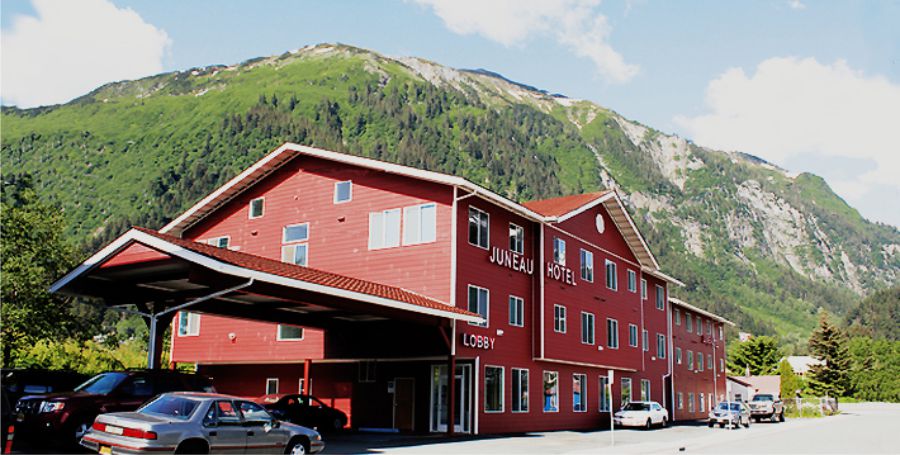 Located right in the heart of downtown (right next door from the Whale Statue), the Juneau Hotel offers spacious, fully equipped suites that will meet all your extended stay needs.
Featuring breathtaking views over the waters of Gastineau Channel, the Juneau Hotel comes with a wide range of amenities. These amenities include a complimentary shuttle to and from the Airport or Ferry Terminal, washers and dryers in every suite, and full-sized (and fully equipped) kitchens in every suite.
The hotel offers freezers on premises for your catch of the day, along with a fitness facility. The location is perfect, the service is rated as friendly, there is free breakfast included for extended stays, and the rooms are so comfy you might not want to leave.
Their extended stay prices are also the lowest on our list! The free Wi-Fi and flat screen TVs in each room (some with HBO included) will add comfort and convenience to your stay. The hotels offers some pet-friendly suites available (one-time charge of $200 for extended stay guests). Book an extended stay suite
⭐⭐⭐ Aspen Suites Hotel ($189 per night for extended stay)
With higher-than-average prices for extended stay in Juneau, AK, the Aspen Suites Hotel does provide some discounts if you book a room for a significant amount of time.
The hotel is located half a mile from the airport and 7.4 miles from downtown. There are a couple of shopping centers nearby. The Aspen Hotel features spacious and furnished rooms, a fitness center, and a coffee bar.
Guestrooms are larger than the standard ones, and are equipped with kitchen suites, flat screen TVs, and free Wi-Fi. This hotel is pet-friendly, but you will need to pay a $150 deposit and an added $20 per day.
In this price range you would expect breakfast to be included, which is not the case at this hotel. Also, there have been complaints about the customer service and some cleanliness issues (there was a bed bug alert back in May 2018), but people are happy about the location of the hotel — it is next door to the airport (but far from downtown).
⭐⭐⭐ Ramada by Windham Juneau ($189 per night for extended stay)
The Ramada by Windham Juneau has spacious rooms with nice views over the waterfront. Amenities include mini fridges, microwaves, private balconies, coffee makers, and free Wi-Fi.
There is a restaurant and a sports pub on premises, but some reviewers have found the food sub-par. The reception staff is well spoken of, while cleanliness levels could be improved. The hotel's Alaskan design is neat, but a bit dated. The Ramada by Windham Juneau is located a good 10-minute walk from downtown Juneau. Overall, this hotel would be okay to stay at for a couple of days, but for a more extended stay in Juneau, AK, it may not be the best option.
🌟🌟🌟🌟🌟Frontier Suites Hotel ($55-$59 per night for extended stay)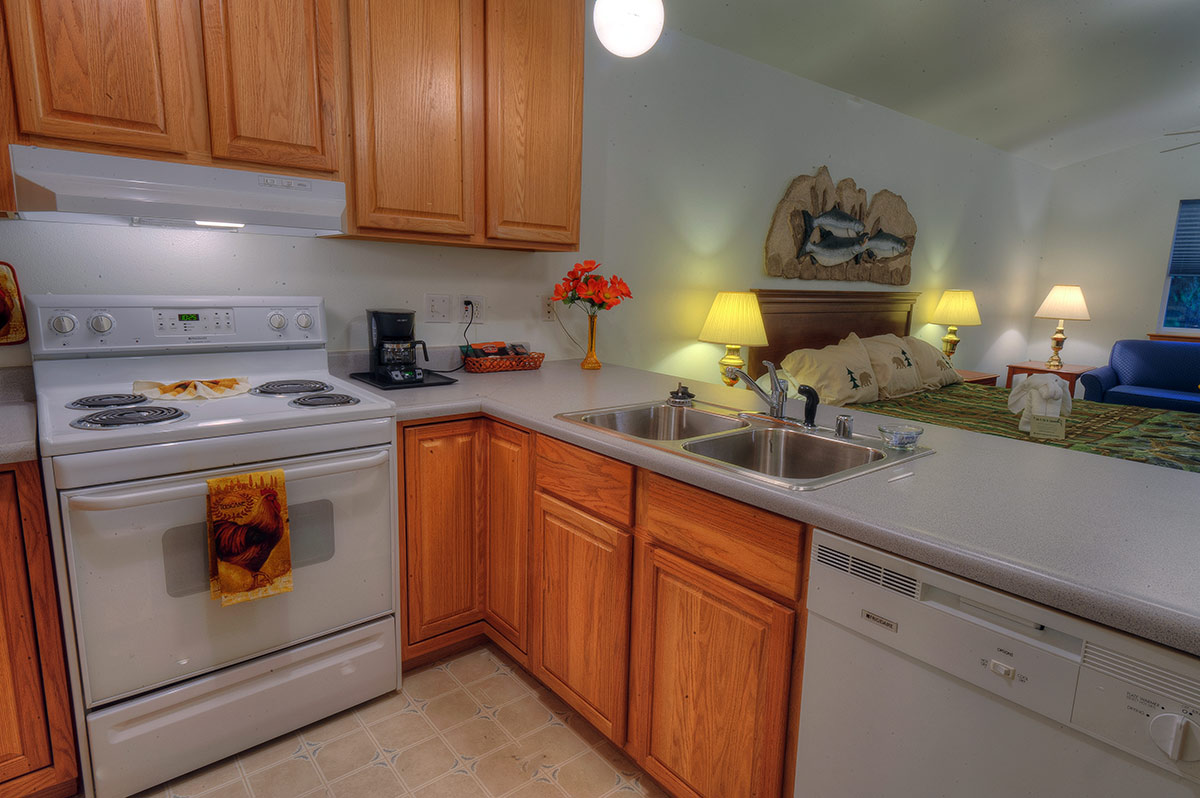 The Frontier Suites Hotel in Juneau would be another excellent choice for your extended stay in Juneau. This hotel is close to the airport, but not as close as to hear the planes landing. It provides large and comfortable rooms and spacious suites with a separate bedroom, with fully equipped kitchens where you can prepare your own meals.
Or, if you don't really feel like cooking, the Peruvian restaurant on premises serves delicious food (there are also excellent other dining options nearby). Frontier Suites also offers free breakfast for all guests (including extended stay guests), a gym facility, free Wi-Fi, flat screens with a generous channel selection, and a complimentary freezer for fish and game on the premises.
Frontier Suites offers some rooms that are pet-friendly (one-time charge of $200 for extended stay guests). This hotel is built in such a way that it allows one to walk from one end of the property to the other indoors, thus keeping you dry from Juneau's rain when using its facilities.
⭐⭐ Alaskan Hotel ($100 per night for extended stay)
"Have you ever visited a museum and wished you lived there?" is one review of the Alaskan Hotel. The city's oldest hotel, built in 1913, distinguishes itself with some extra Alaskan character, and a genuine Victorian architectural style, preserving its historical authenticity.
However, some would say that the hotel is more run-down than antique, and cleanliness levels may not be up to modern-day standards. Rooms are available both with private and shared bathrooms, but all rooms are quite small, and you might encounter problems sleeping because of the thin walls.
There is a Victorian-style bar on the first floor, which often features live music. This can definitely be fun, especially on weekends. But for an extended stay in Juneau, it will get real noisy real fast.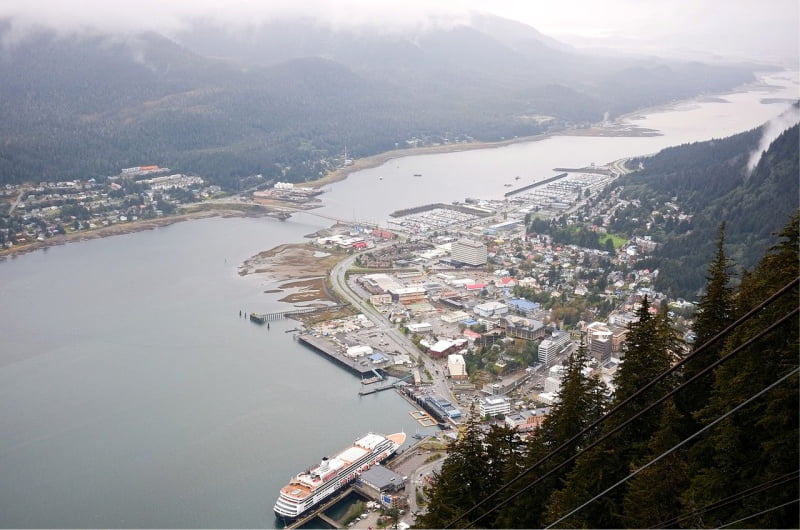 ⭐⭐⭐⭐ Baranof Downtown Hotel ($149 per night for extended stay)
The Westmark Baranof Hotel offers a more sophisticated vibe in Juneau, AK. Located downtown, the Westmark Baranof Hotel is close to the cruise ship docks, Juneau's waterfront, boutique shopping, and restaurants. Expect to pay top dollar for your extended stay here.
The hotel provides a fitness center, a casual cafe, a cocktail lounge, and a fine-dining restaurant that serves a decent Northwestern menu. All rooms feature free Wi-Fi, flat-screen TVs and coffeemakers.
Some rooms are also equipped with mini fridges and microwaves (no real refrigerators or cookstoves). The studio suites have kitchenettes. The hotel does not welcome any pets.
⭐⭐ The Driftwood Hotel ($89 per night for extended stay)
The Driftwood Hotel is adequate at best. Located downtown, this hotel is close to the city's cultural attractions. Rooms vary, starting with casual, individually decorated rooms, to full suites. But do not expect much. As users report on TripAdvisor and other review sites, rooms are tiny and often dirty, staff is rude, and amenities are spotty (both shower pressure and water temperature will vary depending on how many people are taking showers in the hotel at the same time).
All rooms have free Wi-Fi and coffee makers. It is also pet-friendly, for a $200 deposit and $15 for each day on top of the deposit, you can have your pet with you. The hotel also has two on-site restaurants and a 24-hour shuttle service to the airport or ferry terminal. Some rooms have a nice view of the Gastineau Channel. Overall, taking into consideration the price-quality ratio at this hotel, we would recommend looking elsewhere.
⭐⭐ Extended Stay America ($140 per night for extended stay)
This hotel chain offers longer stays. The one-bedroom suites are equipped with a kitchen, and should be equipped with all necessities. Reviews say that this rarely happens however.
The location of the hotel near the airport can be convenient if you work there or have frequent flights in and out of Juneau. Extended Stay America provides its guests with a fitness center, pet-friendly accommodation (expect to pay an extra $750 plus tax per month, per pet!), and free breakfast.
This is one of the few hotels that has an indoor & outdoor pool. The hotel also offers free shuttles to the Ferry Terminal and the Airport (which you won't be needing since it's within walking distance). According to recent reviews on Expedia and TripAdvisor, customer service is lacking, rooms are often not equipped with the bare necessities, it has cleanliness issues, and even bed bugs have been spotted at the Extended Stay America in Juneau, AK. You may consider looking elsewhere for your extended stay in Juneau.
Ask for the corporate extended stay special rate.
Tips for Selecting Juneau Extended Stay Hotels
If you're going to be in a hotel for more than a few days, you want to make sure you'll be comfortable there. Before booking your Juneau extended stay hotel, consider these tips to make sure you're making the right choice.
Focus on comfort, cleanliness, and friendly staff. These three factors will dictate how enjoyable your stay is.
Look for the best amenities to reduce your additional costs during your stay.
Consider how convenient the hotel is to the attractions you plan to visit
Read reviews to get a better understanding of the hotel's pros and cons from other travelers.
Call the hotel to ask about special extended stay rates.
Juneau is a great place to visit. You'll enjoy the beauty of nature and the friendly locals as you explore. And with so much to see and do, you'll be glad you're staying for an extended period. Book your stay at Frontier Suites now.
Further reading: