You'll find a wide variety of fish available in Juneau, Alaska. As a coastal town, it's no big surprise that there are many fishing tours and excursions that feature big boats and ocean experiences. But many locals find enjoyment in bank fishing in Juneau, Alaska.
If you follow local advice, you can reel in dozens of fish in no time. But what types of fish can you expect to catch and where are the best locations for fishing from dry land? Learn all about the types of fish you can catch, supplies you'll need, and where to fish during your stay in Alaska's capital city.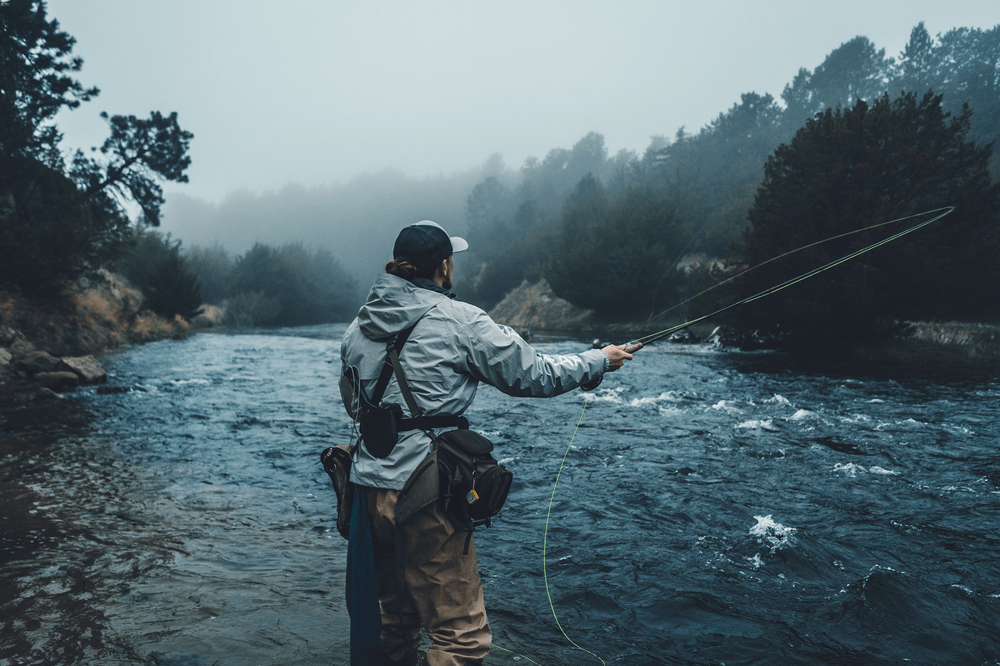 TYPES OF FISH YOU CAN CATCH IN JUNEAU
Juneau offers a wide variety of salmon species in saltwater fishing locations. You'll find many types of trout if you go freshwater fishing. Here's what you can expect based on the type of water you fish in.
Saltwater fish:
King salmon
Pink salmon
Silver salmon
Sockeye salmon
Chum salmon
Rockfish
Halibut
Sea bass
Lingcod
Snapper
And more
Freshwater fish:
Salmon
Steelhead
Dolly Varden
Cutthroat trout
Arctic grayling
Brook trout
Kokanee
SUPPLIES YOU'LL NEED
The supplies you'll need for bank fishing will vary based on the type of fishing you'd like to do. But the great news is, the Alaska Department of Fish and Game (ADF&G) offers free loaner gear to help you get started.
One challenging aspect of using loaner equipment is that you cannot reserve it in advance, meaning you might find yourself renting the equipment still if ADF&G has run out of loaner equipment that day. Call ahead before driving out to the Douglas ADF&G location.
The Juneau/Douglass office provides light duty and medium duty spinning rods. If you're looking to fish in the area while on a budget, this is the way to do it!
Just be sure to get your fishing license before borrowing the equipment. Plus, you'll still need to get terminal tackle, including hooks, lures, weights and more. You should read up on local regulations on the Alaska Sport Fishing Regulations page.
BEST BANK FISHING LOCATIONS IN JUNEAU, ALASKA
With a better idea of how to prepare for bank fishing in Juneau, Alaska, here's a look at the best places to fish from land.
1. Near the Macaulay Salmon Hatchery
Because the hatchery is on the shores of saltwater, the location offers superb docks and landmasses to fish from.
There is a public dock that is a popular local fishing location. Just be sure you come ready to fish with all the necessary equipment because the hatchery does not rent out equipment.
You'll find the location on the ADF&G Juneau Roadside Fisheries map at location 31.
LOOKING FOR A NICE HOTEL IN JUNEAU?
Full kitchens in every suite.
2. Tee Harbor
Tee Harbor is located 18 miles north of Juneau. It offers public access via the boat launch area. This area is great for salmon. You can catch fish as large as 24 inches long in the area.
You'll find the location on the ADF&G Juneau Roadside Fisheries map at location 12.
3. Fish Creek on Douglas Island
Douglas Island offers many great land fishing opportunities. One of those is at Fish Creek. Within the creek, you'll find King, Pink and Coho salmon. The best season for fishing in this area is June and July.
While you're there, enjoy a picnic in the serene and peaceful park. Fish Creek Park offers hiking trails, picnic tables, fishing and more. Plan to spend a day enjoying the beauty of the outdoors. See location 25 on the ADF&G Juneau Roadside Fisheries map.
4. Head of Sheep Creek
If you're lucky, you'll catch some Dolly Varden out at the head of Sheep Creek. This area is known for these types of fish. You'll find the location on the ADF&G Juneau Roadside Fisheries map at location 34.
5. Mendenhall Ponds
If you want to see an iconic part of Juneau while fishing, head to Mendenhall Ponds where the backdrop to your fishing experience is Mendenhall Glacier. Within these ponds, you'll find the following fish.
Dolly Varden
Chinook salmon
Coho salmon
Cutthroat trout
Rainbow trout
ADF&G stocked this pond with rainbow trout in 2019 and with Chinook salmon in 2010. You'll find the location on the ADF&G Juneau Roadside Fisheries map at location 21.
6. Auke Lake/Bay
Another can't-miss tourist location in Juneau with excellent fishing opportunities is Auke Lake and Auke Bay. You'll find these locations on the ADF&G Juneau Roadside Fisheries map at locations 19 and 20.
Auke Lake is home to many types of sea and wildlife. You'll find coho, sockeye, pink and chum salmon. But you'll also find rainbow trout, cutthroat and Dolly Varden.
Keep your eyes open for eagles, seals, sea lions and more during your fishing trip at Auke lake. You'll also enjoy excellent picnic areas and nature facilities.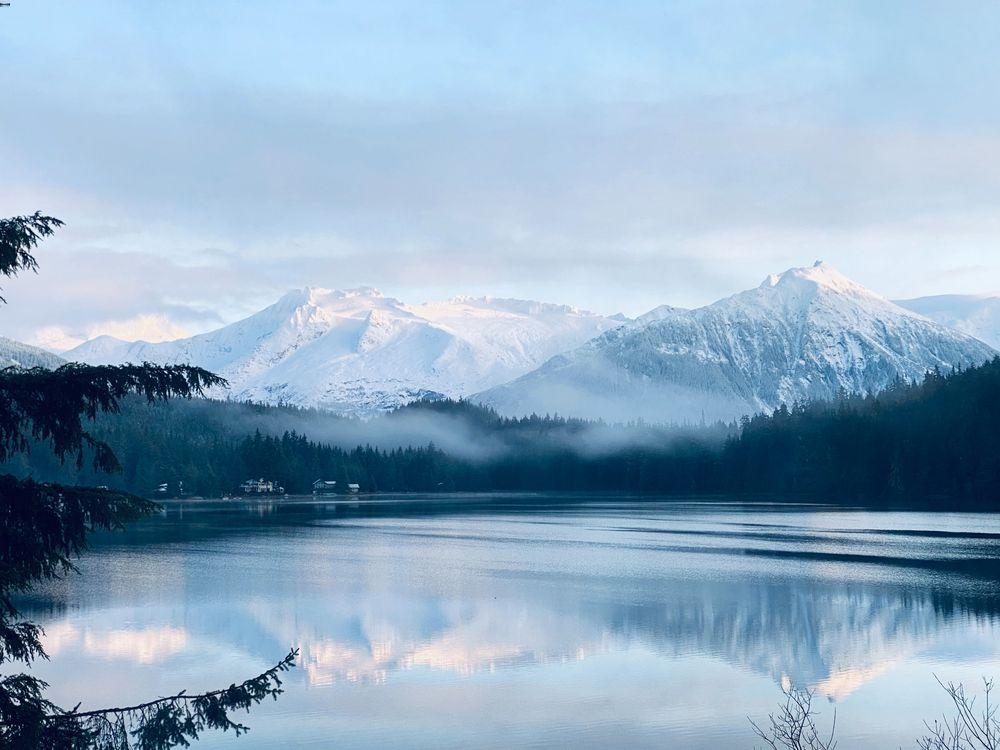 7. Cowee Creek
If you have ample time in Juneau, consider the beautiful drive up to Cowee Creek. It's about an hour north of downtown Juneau via Glacier Highway. But the drive will take you through neat parts of Juneau and show you a peaceful drive.
You can fish under the bridge. You'll find a variety of salmon and you don't need any special equipment to fish in the area. Locals report catching a fish on nearly every cast, which will keep you busy and entertained.
You'll find the location on the ADF&G Juneau Roadside Fisheries map at location 2.
And if you fished near Sheep Creek, you'll have driven a great deal of Glacier Highway to see some of the best parts of Juneau.
STORING FISH DURING YOUR JUNEAU HOTEL STAY
If you're coming to Juneau to fish, you should ensure that the hotel you choose features a fish and game freezer. That way, you can get your catch home or cook it up to enjoy. The best way to cook and enjoy your recent catch is to book a hotel with a full kitchen in the room.
Frontier Suites offers an inclusive list of amenities, including a fish and game freezer. You could eat at the on-site Northern Cuisine Restaurant that's open 7 days a week. Or you can enjoy a quiet meal in your room using the full kitchen and essentials provided.
Cooking up some fresh fish is simple when you stay at Frontier Suites. You'll have the freezer necessary for storage, but also the stove and oven to cook delicious meals.
Book your stay now to secure your suite during the best fishing season of April through October. Then you can start mapping and planning your bank fishing during a Juneau getaway.
Further reading: