Planning a trip to Alaska soon? You'll want to read this to learn more about how to pack. The weather in Juneau is quite different from other areas of the country and sometimes visitors are surprised by the climate.
Even in the summer, the temperatures rarely crest 70 degrees Fahrenheit. And in the fall, you might need to plan for winter-like weather.
We'll break down what you need to pack for your travels to Juneau and how to make the most of your trip.
Juneau Packing Tips
Juneau gets a total precipitation of 55 to 90 inches each year. Generally, this is snow from October to April and rain the other months of the year. But what this means is, you can plan for damp weather no matter when you plan your visit.
You don't want to be burdened with an umbrella throughout your travels, so instead consider water-resistant clothes with a hood. This will keep your hands free to enjoy your adventures in Juneau.
And because clouds can come out of nowhere, it's a good idea to layer up so that you can adjust your wardrobe as the weather changes throughout the day.
Outside of your attire, you'll want to bring along these items when on an excursion or outdoor adventure in Juneau.
Mosquito repellent

: because Alaska is a glorious outdoor adventure, consider how you'll ward off bugs. Buts aren't terrible in the state, but you should still consider how to protect yourself. Ideally, look for a repellent with 30-40% DEET. Generally, tourists find that mosquito head nets are overkill, even when spending the day hiking.

Camera or waterproof smartphone

: you won't want to miss one moment of your adventure in Alaska. When considering carrying electronics with you, don't forget how much moisture the area gets. Evaluate how waterproof your device is before packing it for a long day outside. If the device isn't waterproof, be sure to place it in a waterproof bag or case.

Bag

: get a good backpack, daypack or tote to store your belongings in for ease of use. You want to make sure that it's comfortable to carry for long periods. Test out a few bags during long walks at home before selecting your bag for your travels. Look for bags with gel padding on the straps to ensure you'll be comfortable carrying it for long periods.

First aid kit

: if you're going on an excursion with a guide, you'll likely be covered for first aid purposes. But if you're planning a day out hiking or touring the area on your own, consider bringing a simple first aid kit. It doesn't need tons of items in it but consider some BAND-AIDS and ointment to treat minor cuts and scratches so you don't have to return to your Juneau hotel before you'd planned to do so.

Binoculars

: you'll get up close and personal with nature while in Alaska, but to see the fine details, plan to bring some small binoculars that fit in your bag. Plus, you'll enjoy getting a close-up look at the snow-covered mountain peaks from the ground.

Water bottle

: because it isn't very hot in Alaska, some travelers can forget to stay hydrated. Carrying a water bottle will allow you to hydrate when you start to feel fatigued and avoid burnout when traveling.
LOOKING FOR A NICE HOTEL IN JUNEAU?
Full kitchens in every suite.
Spring Weather Clothes for Juneau, Alaska
Spring weather in Juneau averages in the mid-40s. But don't forget that there is often a breeze and precipitation. During this time of year, layers are especially important to make sure you're comfortable.
Here are the main items you'll want during spring.
Top:

layer up on top. Start with a lightweight inner layer that is moisture-wicking. Look for natural fibers, such as merino wool. Next, look for something that will insulate your body's heat. This should be a windbreaker or sweater designed for insulation. Finally, add an outer layer that is waterproof. Look for a material that is also breathable so that you don't get chilly from your own perspiration. Gore-Tex is a great outer layer for this use case.

Pants:

while the rest of the country might be starting to think about shorts, you should wear long pants while enjoying spring in Juneau. Don't forget to look for moisture-wicking material that is waterproof to help keep you dry. And if it isn't waterproof, make sure it dries quickly to keep you comfortable.

Footwear:

just like everything else you're wearing, look for waterproof footwear. Be sure to look for quick-drying socks as well because if you get caught in a rain or snow shower, you could be very uncomfortable the rest of the day if you don't have good socks. And even if you have the best quick-drying shoes but poor socks, you'll be uncomfortable and face blisters and other discomforts.

Accessories:

don't forget some gloves! Keeping your hands warm will help you enjoy your travels.

Headwear:

with the chilly air, you'll want to have a good hat that keeps your ears warm and holds the heat in your body. Don't look for anything super heavyweight though since we've made it out of the bitingly cold winter months at this point.
Summer Attire for Juneau Tourists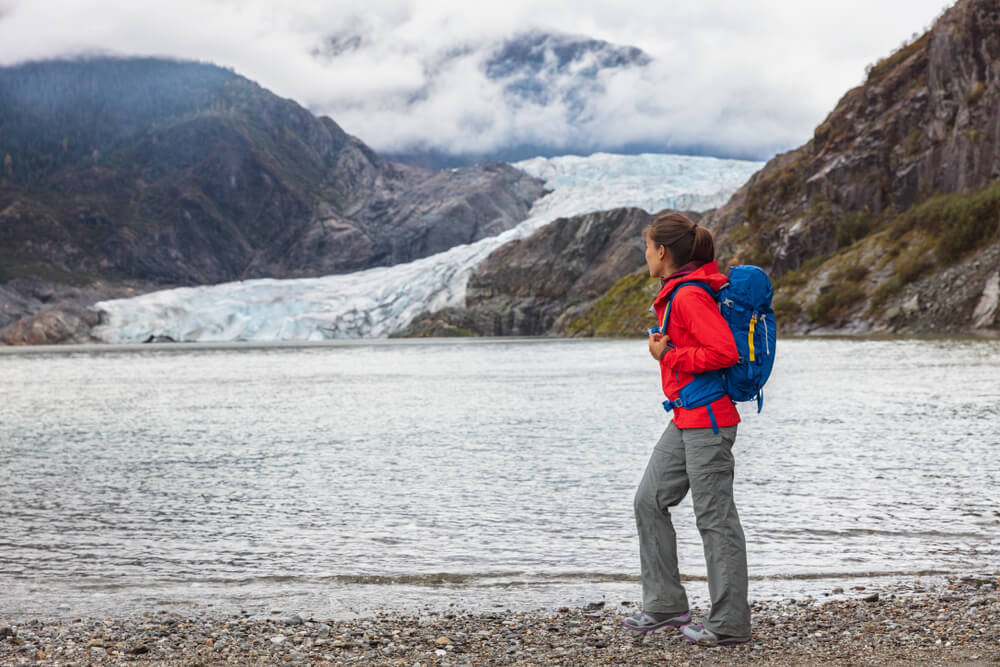 The averages in Juneau for the summer months are still low 60s. You won't be doing any sunbathing or outdoor swimming during your summer vacation in Juneau. But it is the perfect temperature to adventure outside with hiking, whale watching and more!
Top:

while the weather is fairly mild, don't forget that the air is still damp and breezy. Start with a moisture-wicking T-shirt and add on a wind- and water-resistant jacket. Make the jacket light so that you don't overheat during physical activity. It's best to still layer up instead of just wearing a long-sleeve shirt because you might be surprised how warm you get once you start moving.

Pants:

while the weather is technically warm enough during the day for shorts, you should probably skip them. Pants provide a protective layer from bugs and scratches when outside. Look for lightweight, moisture-wicking pants for summer travels to Juneau.

Footwear:

much like shorts, you probably don't want to wear sandals during your Juneau travels. If you do, look for sandals, such as Keens, that protect more of your foot from hazards. If you're out kayaking or doing other activities on the water, it's not a bad idea to have a shoe that can get wet and dry quickly. But don't forget to protect your feet during your activities.

Accessories:

bring a nice thin pair of gloves. Keeping the cold glacier air off your hands will help you enjoy your travels. The low can get into the 40s in the summer, so still plan for a light pair of gloves.

Headwear:

a brimmed hat can help protect your head and face from sun and rain. You might also want sunscreen during the summer months. And don't forget a pair of sunglasses since sunny days can be quite bright with reflections off the water and snow-capped mountains.
Fall Packing List for Alaskan Vacation
Fall weather in Juneau is much like spring with highs averaging in the mid to upper 40s. Your packing list will look quite similar to the spring list.
Some additional considerations you might want in the fall are a headlamp or flashlight. The days start to get pretty short this time of year. Daylight starts fading around 4 p.m., which can sneak up on tourists who aren't used to this.
What to Wear During Winter in Juneau
The average temperatures in Juneau are not that much colder than what you are used to. When people think of Alaska, they think of Eskimos and igloos, but in our area, the highs are in the mid-30s and lows are in the mid-20s. But that's still about 10-20 degrees cooler than it is in spring and fall, so still plan for a little more clothing.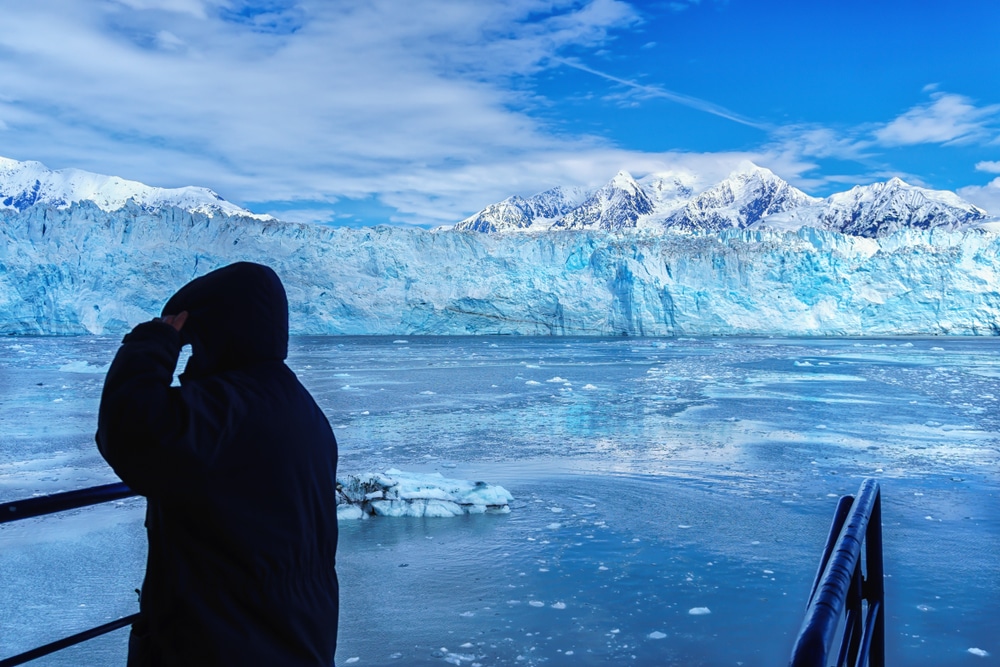 Top:

just like spring and fall, start with a moisture-wicking base and add on a waterproof layer. Then, plan for a heavy winter coat. If you're planning to travel near the water, don't forget that the air is colder on the coast.

Pants:

if you're planning to ski or snowboard, don't forget to bring a pair of snow pants. You'll want them to still be flexible for ease of movement during the sports, but also added layers to help keep you warm when moving quickly through the chilly air.

Footwear:

travelers planning snow activities should bring a good pair of snow boots. You'll likely encounter snow during this time of year, so be sure your footwear is waterproof.

Accessories:

don't forget gloves. You can't avoid gloves in Juneau this time of year because they'll help keep you comfortable.

Headwear:

a good hat can help insulate your body. Look for a hat that covers the full top of your head and ears to stay warm.
Planning Your Juneau Travels
As you prepare for your trip to Juneau, look for a hotel that will best accommodate your adventures. Frontier Suites offers a home-like experience with suites that include a full kitchen. You'll enjoy the comforts of home when you stay with us. Book your stay now to reserve your suite.
Further reading: