Juneau is a great place to visit as a family, including your furry family members. Your pets will love the outdoor adventures and getting to be a part of your vacation.
Because Juneau is all about the outdoors, many hotels in Juneau are pet friendly. We've put together a list of pet-friendly hotels to help you find a place to stay that will be comfortable for you and your furry friend.
Be sure to call the hotel in advance of your stay to make sure they have pet-friendly rooms available and that your pet meets any hotel-specific criteria.
1. Frontier Suites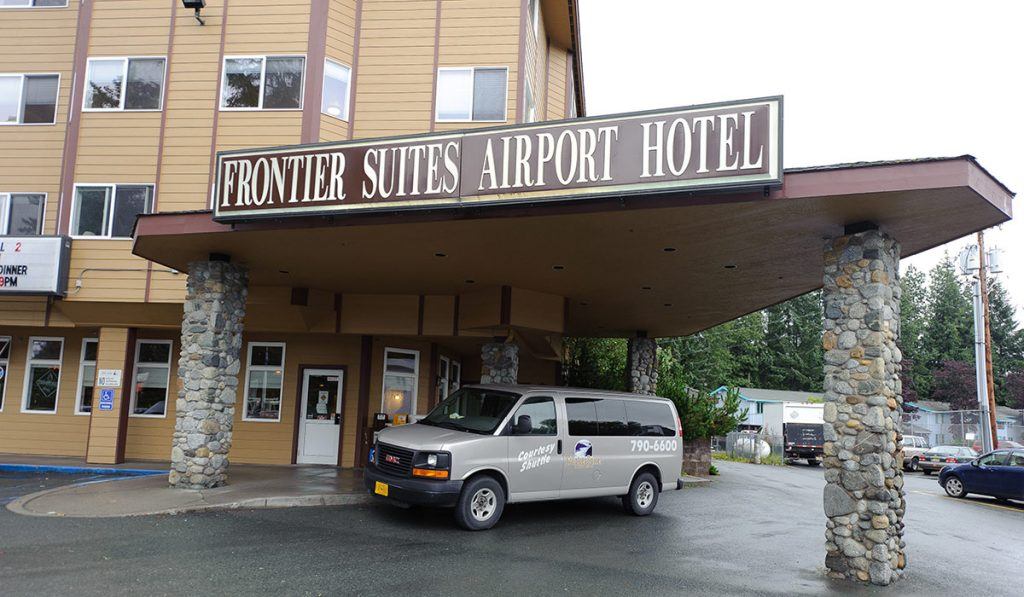 Address: 9400 Glacier Hwy, Juneau, AK 99801
You'll love the amenities at Frontier Suites and the ability to bring your pet with you. Enjoy the complimentary airport shuttle.
All rooms come equipped with a full kitchen so you can feel just like you're at home. And because the rooms are suites, your pet will have plenty of space to explore and feel at home as well.
There are some special rules for pets staying at Frontier Suites. Be sure to contact the hotel before booking your stay to ensure your pet will be comfortable bunking with you at the hotel.
Dogs that are not service animals staying at Frontier Suites must be 35 pounds or less and 18 inches at the shoulders. Call the hotel and talk to the staff about your dog's size and weight to get approval.
Cats staying at Frontier suites must be declawed, neutered and trained to use a litter box.
Here's what a Frontier Suites guest had to say about their stay at the hotel: "We stayed here while visiting our son! It was extremely close to the airport and downtown Juneau. The staff was more than accommodating, room was exceptionally clean, and it truly was home away from home!"
2. Juneau Hotel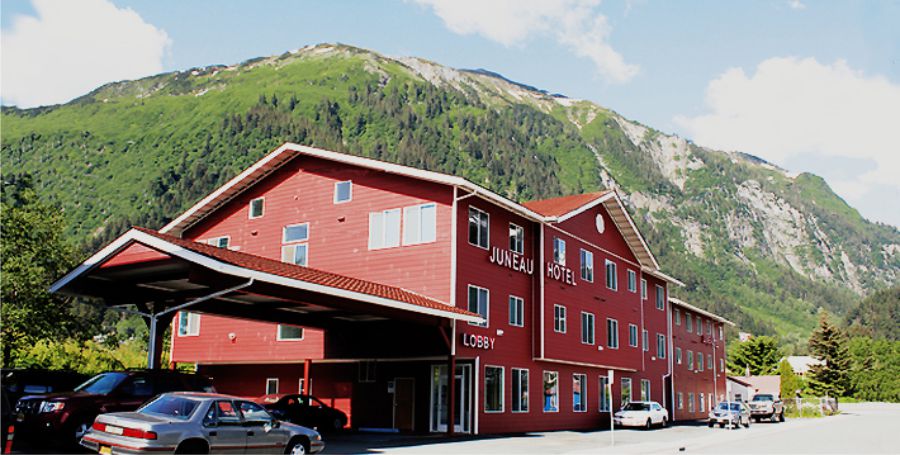 Address: 1200 W 9th St, Juneau, AK 99801
Juneau Hotel offers suites and great amenities in downtown Juneau. Enjoy an in-room washer and dryer and a full kitchen during your stay.
The hotel welcomes dogs that are 35 pounds or less and all service animals. Call ahead to make sure you can get a pet-friendly room. No cats are permitted to stay at Juneau Hotel and dogs cannot be left unattended in the room.
Here's what a vacationer said about staying at Juneau Hotel: "My group stayed here for 2 weeks and had a great experience. The fact that every room had a full kitchen AND a washer/dryer was amazing! The rooms are very comfortable and spacious."
3. Ramada by Wyndham

Address: 375 Whittier St, Juneau, AK 99801
Centrally located in downtown Juneau and with beautiful views of the mountains, Ramada by Wyndham is also a pet-friendly hotel. You'll be in an area with plenty of sightseeing and can easily take your pet for walks through the stunning outdoor adventures Juneau offers.
The hotel is somewhat older and could benefit from some renovations according to reviews. However, it's still a very friendly and accommodating place to stay, especially with pets.
This customer review makes it clear that the Ramada is committed to caring for both humans and their pets: "This hotel was top-notch from start to finish! The staff at check-in was very friendly & even had treats for our 3 dogs."
4. Driftwood Hotel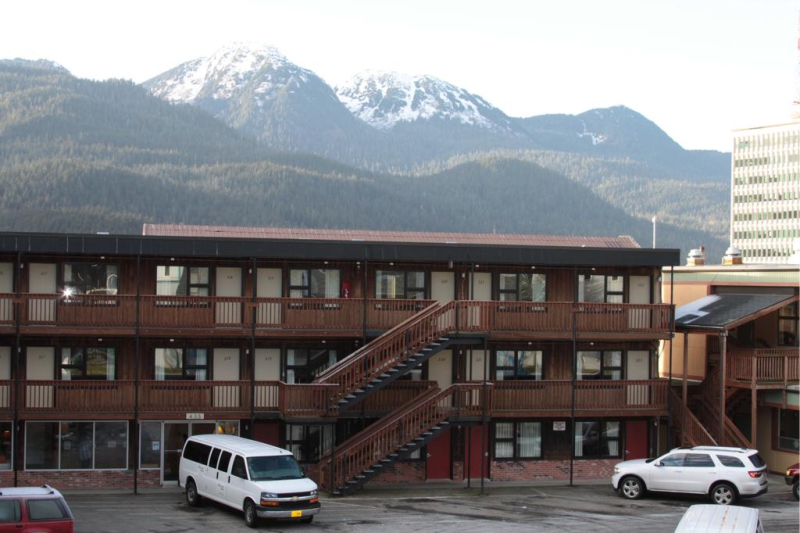 Address: 435 W Willoughby Ave, Juneau, AK 99801
Located within walking distance of many great Juneau restaurants and sightseeing attractions, Driftwood Hotel is another pet-friendly place to stay in the area.
Be sure to call ahead to check on pet accommodations before booking your stay. It's best to book your travel over the phone instead of online to ensure you're getting the right room based on the needs of your pet. That way, you also won't be surprised by any additional fees for having a pet stay with you.
The Driftwood Hotel is a budget hotel so don't expect a luxurious stay. You'll have the basic amenities that you need though.
Here's what a guest at the Driftwood Hotel said about their stay: "In terms of accommodation, The Driftwood is a functional, clean motel in a good location for Downtown Juneau."
5. Extended Stay America – Juneau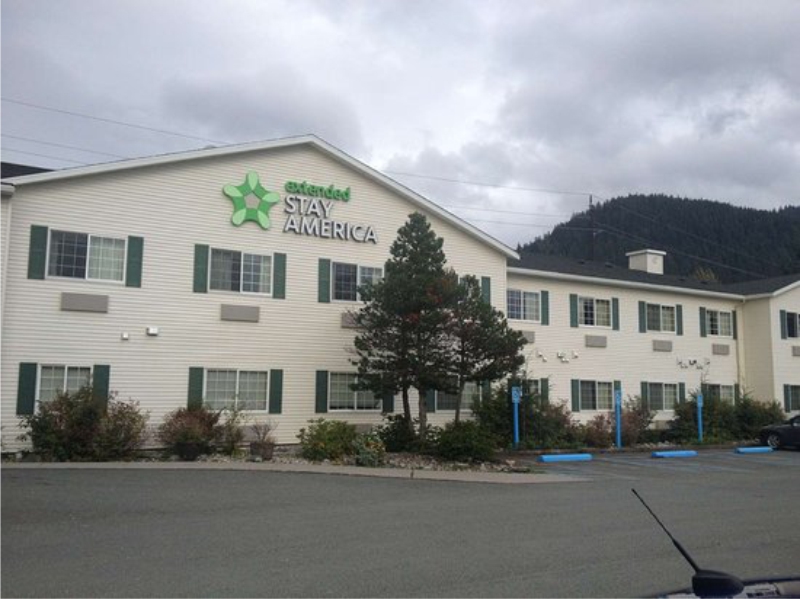 Address: 1800 Shell Simmons Dr, Juneau, AK 99801
Located near the Juneau airport, the Extended Stay America is a great place to rest and relax with your pets while on vacation or staying in Juneau for work.
Bring up to two pets per room and enjoy an extended stay in Juneau. Pets can be no longer or taller than 36 inches. If your pet does not meet this requirement, you should call and talk to the front desk about it with your questions. Additional fees apply.
Here's what one traveler said about their stay here: "The space is ample for myself, wife and two dogs. I chose this hotel because they allow pets and at a reasonable rate. The rooms are spacious and provide the amenities that suit my family."
6. Aspen Suites Hotel Juneau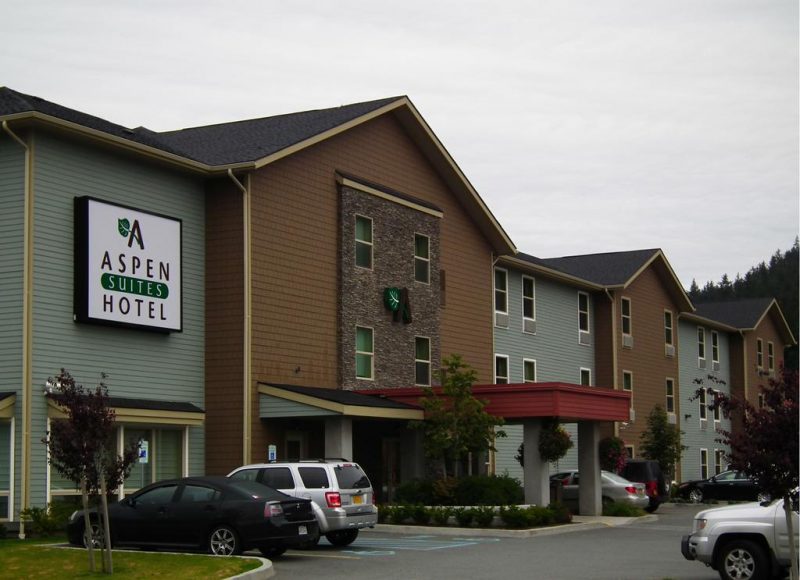 Address: 8400 Airport Blvd, Juneau, AK 99801
You'll be near the airport during your stay at Aspen Suites Hotel Juneau. This is a newer hotel in the area, so you'll be greeted with modern design and brighter colors than some of the older hotels in the area. While it won't have that local charm, it will be modern and comfortable for your stay.
Feel free to bring your small dog along so long as they don't weigh more than 35 pounds. You'll pay an additional $25 per night with a maximum of $150 for short-term stays.
Your dog is welcome to stay in the room alone so long it is crated. No cats are allowed at this hotel.
This is what a visitor had to say about their stay at Aspen Suites: "The rooms are clean and comfortable. The location is close to the airport, and if an early morning flight is your concern, the location is excellent."
7. Alaskan Hotel and Bar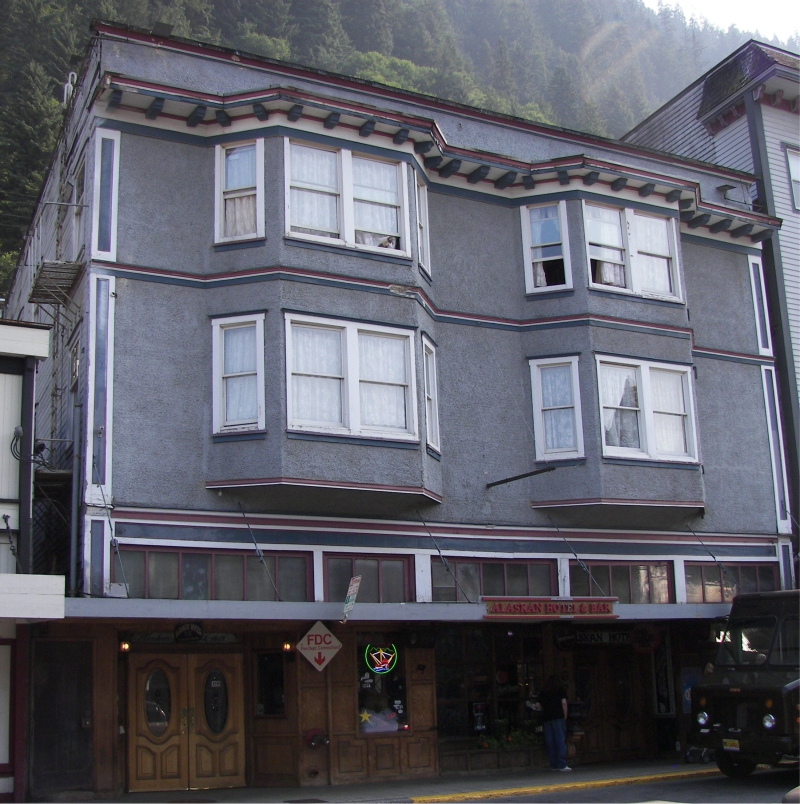 Address: 167 S Franklin St, Juneau, AK 99801
Located in downtown Juneau, the Alaskan Hotel is positively charming. It first opened in 1913. You'll love the old architecture and easy access to main attractions. However, because this is an older building, the rooms are smaller so keep that in mind if you're planning to bring a pet.
There are only four rooms that are pet-friendly so book well in advance of your stay. Be sure to call to secure one of these rooms as you can't book a pet room online. Pets of any size are welcome at this hotel and can be left in the room unattended. Both dogs and cats can stay at the Alaskan Hotel and Bar.
Check out this review from a visitor: "Wonderful hotel in downtown Juneau. Walking distance to cruise ship terminal, state capital, grocery store, and Red Dog Saloon. $100 a night for private room with private bathroom. Friendly staff. Dive bar on site."
Book a Pet-friendly Hotel in Juneau
At Frontier Suites, we look forward to welcoming you and your pets to stay with us. We'll ensure your stay is comfortable and accommodating.
Book your pet-friendly Juneau hotel stay with us now.
Further Reading: