am has worked hard to provide updated content, new imagery, and a brand new way to find the information you are looking for.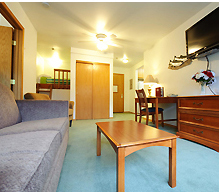 You can now see the types of rooms we have in detail, with images and at-a-glance information. You can view the amenities we have to offer – did you know we are one of the few hotels in Juneau AK with a full gym? You can also find out more about the Specials we run on a regular basis. For instance, did you know that you can get better rates for extended stay at our hotel than some apartment rentals in Juneau? Check out our Specials page for details.
Most importantly, we have added a new blog, where we will be sharing various information about hotels in Juneau, things to do in our town, and various other valuable information regarding The Last Frontier. So make sure to check in with us more often and stay tuned for the various promotions and specials that we will be updating throughout the year.
Thank you for being valued customers, and we look forward to hearing your feedback.
-Your friends at The Frontier Suites Hotel in Juneau
Looking for Hotels in Juneau?
Look no Further